Montréal's Hôtel de Ville (City Hall) is one of the city's most spectacular buildings, fashioned in a style that pays homage to the mother country, France.
City Hall History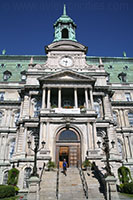 Hôtel de Ville
Sitting in the midst of Old Montréal, facing Place Jacques-Cartier, it took six years to build this fabulous building known in French as Hôtel de Ville. Designed by Henri-Maurice Perrault, construction of Montréal's City Hall began in 1872 and commenced in 1878.
This City Hall is built in the French Second Empire style, also known as the Napoleon III style. The exterior is decorated with ornate balconies, grand turrets, and attractive mansard roofs, and is best appreciated in the evening, when the city lights the building with hundreds of bulbs. It's an awesome sight!
Inside the building, guests will find an abundance of marble and plenty of bronze. The Hall of Honour is particularly striking and offers portraits of every mayor who ever held this office in Montréal. The hall boasts marble from Campagna, Italy; art deco lamps from Paris; and a magnificent French bronze and glass chandelier that weighs a metric tonne (about 2,200 pounds). Ceilings are hand-carved and the stained-glass windows are stunning.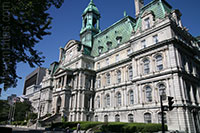 Unfortunately, Montréal's City Hall was less than 50 years old when it suffered a terrible fire in 1922. The interior was completely gutted but the exterior was spared, even though the roof was destroyed. The people of Montréal saw to it that the interior was restored in a timely manner and fashioned it in the style of the city administrative building in Tours, France.
The Famous Speech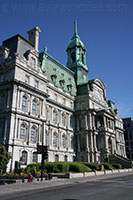 Montréal's Hotel de Ville was thrust into the international limelight when French president Charles de Gaulle visited in 1967. It was at this time that he gave his famous "Vive le Québec Libre" (Long-live a Free Quebec) speech from the balcony of the building. It's said that de Gaulle was a huge hit with the people of Montréal, but that the Canadian government wasn't very happy with his dissertation. His speech strained Canada's relationship with France for many years.
Visiting Hôtel de Ville
City Hall serves as the administrative headquarters for the city of Montréal, and the mayor has his office here. Many areas are off-limits to the public, but visitors can register for a quick but insightful 15-minute tour, which takes place several times each weekday from May through October.