Habitat '67 is a complex of residential apartments that was built on the occasion of the tremendously successful World Exposition of 1967, whose motto was 'Man and his World'.

Habitat '67 seen from the old Port of Montreal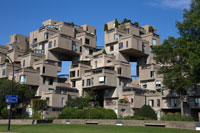 Habitat '67
The complex was built at a picturesque location on the Cité du Havre, a peninsula in the St. Lawrence River near the Old Port of Montreal.
Concept
The concept of Habitat '67 was borne out of architect Moshe Safdie's master's thesis for McGill University. Safdie's design was based on the medieval hillside towns in the Mediterranean and was meant as a vision of city-living in the future. His design was a reaction against the sterile steel and glass towers that started to become popular in urban areas. The architect wanted to provide the diversity and individuality of private housing in an urban context.
Detail
Expo '67, which had housing as one of its main themes, allowed Safdie to bring his ideas into reality. His design would serve as a pavilion for the exposition. It was also used as a temporary residence for dignitaries. After the exposition, the complex was converted into private apartments.
The Complex
Habitat '67 is composed of more than three hundred pre-fabricated concrete modules, which are stacked on each other, seemingly at random, as if the complex grew organically. In fact, the whole complex is designed in the shape of three pyramids.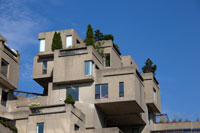 Stacked modules
There are over one hundred fifty apartments in total, each of which consists of between one and eight modules. The apartments are connected to each other by walkways, stairs and elevators. The roofs of the apartments are used as gardens and terraces for the apartments above.
Initially, the concept for Habitat '67 was meant as an experiment for affordable urban housing, but the construction cost of the modular apartments proved prohibitively expensive. Today, the apartments are very much sought after, and mostly affluent people live here today. Habitat '67 is a private residence and cannot be toured, but it is worth a visit, if only for the exterior view, as it looks more impressive in real life than in any photo.