When the Torre Velasca was built at the end of the 1950s, the peculiarly shaped tower symbolized a new, more modern Milan. While historic landmarks such as the Duomo and Sforzesco Castle represented Milan's storied past, the Torre Velasca and the Pirelli Tower – completed two years later – represented Milan's future.
The tower is named for Don Juan Fernando De Velasco, who was governor of Milan from 1592 until 1600 and again from 1610 until 1612.
BBPR
The tower was built after a design by Studio BBPR, a local architectural firm founded in 1932 by four young Italians right after they completed their architectural studies.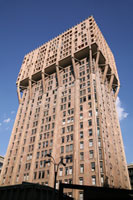 Torre Velasca
The name of the firm is formed by the initials of the four architects: Banfi, Belgiojoso, Peressutti and Rogers. After Banfi died in a concentration camp in 1945, the three surviving members decided to continue the practice. The firm is now best known for the design of the Torre Velasca, a modern high-rise building that was planted smack in the center of historic Milan.
Design
Instead of simply copying the boxy glass-and-steel skyscrapers that had become prevalent in the United States, they opted to create a design which reflected its historical surroundings rather than ignoring it. The result is a tower that recalls a massive medieval watchtower thanks to its sturdy red-brown facade and the projecting section. The supporting struts below the projected floors reenforce the image of a fortified tower.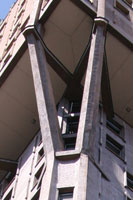 The struts
Originally the tower had a more modern looking design, with large windows and the projecting section was initially cantilevered. The use of the projection resulted in an increase of available floor space without the need for a larger base on an already cramped site.
From the outset, the 106 meter (348ft) tall building was multifunctional with areas for shops, offices and exhibitions on the lower floors, offices in the middle section and apartments on the upper floors.
Reception
After its completion the building was met with mixed reactions. While some saw the tower as a herald of a new, modern Milan, others lamented the negative impact the tower had on the historic skyline, which was until then dominated by the Duomo. Architecture critics considered the building's references to the past a step back from the modern functional skyscrapers of the early 1950s.
Despite its flaws, the Torre Velasca soon became an icon of twentieth-century Milan, a bridge between the city's historic buildings and the growing number of modern glass high-rises of the twenty-first century.