The sixteenth century church of San Maurizio al Monastero Maggiore may be inconspicuous on the outside, but its interior boasts some of the most beautiful frescoes found in Milan.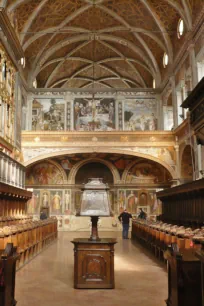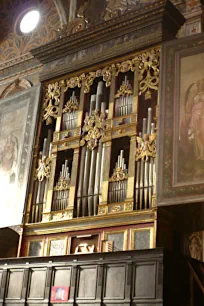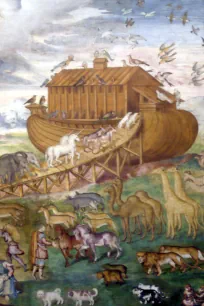 History
The church was built as part of the Monastero Maggiore (Great Monastery), a large convent owned by the powerful Benedictine order. Construction started in 1503 and the church was inaugurated twelve years later. Its design is attributed to the Italian architect Gian Giacomo Dolcebuono, who had earlier worked on the cathedral of Milan.
The monastery was built at the site of ancient Roman remains. It was partially demolished in the nineteenth century, and the site is now occupied by the Museo Archeologico (Archaeological Museum).
Public and Convent Halls
The church has a simple rectangular floor plan with ten bays. It is covered by a barrel vaulted ceiling with false ribs that were merely added for decorative purposes.
A partition wall divides the church into two halls: a large hall with six bays for the nuns living at the convent and a smaller public hall for the congregation. The convent hall – also known as the Hall of the Nuns – is home to the choir, while the main altar is located in the so-called Hall of the Believers – usually referred to as the public hall. The convent hall also contains an organ built in 1554-1557 by Gian Giacomo Antegnati. The organ's case was decorated by Francesco and Girolamo de' Medici da Seregno.
Frescoes
The church of San Maurizio is best known for its magnificent frescoes. The walls and chapels of the church are completely covered with paintings. The paintings were created in three different cycles, from around 1510 until 1578. Most of the earliest paintings are now lost (painted over by newer works), but there are plenty of masterpieces visible that were created after 1530.
The most famous are the frescoes of Bernardino Luini, a student of Leonardo da Vinci. His frescoes in the St. Catherine chapel (third chapel on the right) in the public hall and on both sides of the partition wall are among the most celebrated works of art in Milan. His family also contributed: in 1565 his brother Aurelio created the 'Adoration of the Magi' on the partition wall and his sons decorated the Bergamina chapel in 1555.
There are also plenty of interesting works in the church created by other artists. The decorations in the Simonetta chapel are the work of the Piazza family. Also of note is the painting on the partition wall in the convent hall, created in 1573 by the Venetian artist Simone Peterzano – Caravaggio's master – and the altarpiece, another interpretation of the 'Adoration of the Magi', painted in 1578 by Antonio Campi.