The Basilica of San Lorenzo (St. Lawrence Basilica) is one of the oldest churches in Western Europe; its history goes back to the fourth century, when it was built with material used from existing Roman structures.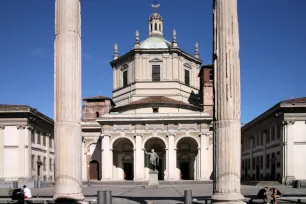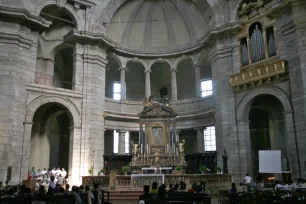 Little is known about the church's origin, but it was possibly originally built as an imperial chapel. Over the centuries the church has been ravaged by fire several times, and it was last rebuilt in the sixteenth century. Most of the walls, including those of the three chapels, date from the late fourth century.
The octagonal floor plan, with a central dome and large exedras surrounded by four towers – typical for early Christian churches – is still original. The enormous dome, resting on an octagonal drum, was rebuilt at the end of the sixteenth century by Martino Massi after it had collapsed in 1573.
The portico in front of the church was added much later, at the end of the nineteenth century.
Chapels
The enormous dome makes the interior overwhelming, despite the sparse decorations. The chapels, built as annexes to the central structure, are well worth a visit. The most interesting is the Cappella di Sant'Aquilino, which was possibly built in the early fifth century as a mausoleum for Galla Placidia, daughter of Emperor Theodosius I. The chapel is decorated with magnificent mosaics depicting Elias in a chariot and Jesus with the apostles.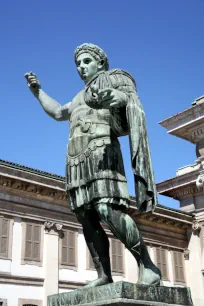 Colonnade
The San Lorenzo Maggiore church is sometimes also referred to as the San Lorenzo alle Colonne, a reference to the colonnade in front of the church. The sixteen Corinthian columns date from the second or third century and were possibly taken from a Roman temple or bath complex. They were placed here during the construction of the church.
In the middle of the plaza, hemmed in by the church and colonnade, stands a bronze statue of Emperor Constantine, who ended persecution of Christians in 313 AD with the edict of Milan.