The slender Pirelli Tower was the first building in Milan to surpass the height of the cathedral. The innovative skyscraper, nicknamed Pirellone (Big Pirelli), was instantly recognized as an international landmark when it was completed in 1959 as the headquarters of Pirelli.
Creation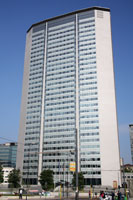 Pirelli Tower
Construction of the tower started in 1955 at the site where the company's first factory stood since 1872. It was designed by a collective of architects, spearheaded by Gio Ponti and Pier Luigi Nervi.
Ponti was both a designer and architect who created items ranging from coffee machines and chairs to houses and even churches. Nervi was one of the greatest engineers of his time, specialized in concrete structures. The combined knowledge and creative thinking of these two led to a truly innovative skyscraper.
Design

Side view
The most striking aspect of the Pirelli Tower's design is its slender shape. Thanks to Nervi's technical knowledge it was possible for Ponti to design a tower with a very narrow base, supported by concrete piers that decrease in size as they approach the top of the building.
The building's slender appearance is reinforced by the receding concrete walls that contain the service areas at either side of the building. Here the front and back facade almost touch each other, except for a narrow gap that runs all the way from the bottom to the top, again reinforcing the image of a tall and narrow tower. A similar gap between the roof and top floor results in a roof that seems to float above the building.
Record Breaking
The Pirelli Tower rises from a small base straight up to a height of 127 meters (417ft). It was the first building that rose above the top of the Madonnina on the Duomo, which for centuries marked the highest point in the city.
For a short time after its completion in 1959 the tower also held the title of the world's tallest reinforced concrete building. Today it isn't even the tallest tower in the city, but the iconic building is still the most elegant and architecturally successful skyscraper in Milan.
Soon after its completion the building became an inspiration for other architects, and its form can be found in other skyscrapers, most notably the PanAm Building (now Metlife Building) in New York.