The Piazza della Scala is a pedestrianized square created in the nineteenth century in front of the famous La Scala theater, which gave the square its name. A central monument honors Leonardo da Vinci, who for many years lived and worked in Milan.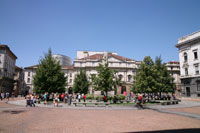 Piazza della Scala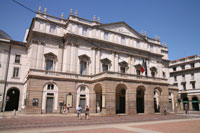 Teatro alla Scala
Teatro alla Scala
Undoubtedly the most famous building lining the square is the Teatro alla Scala, one of the world's most famous theatres. La Scala, as it is often called, was built in 1778 after a neoclassical design by Giuseppe Piermarini. It is now difficult to imagine that for eighty years the renowned theatre faced a street with hardly any space around it.
This changed in 1858, when the housing block in front of the theater was demolished and the Piazza della Scala was laid out.
Palazzo Marino
The pleasant square is surrounded by several more historic buildings, in particular the Palazzo Marino opposite the Teatro alla Scala.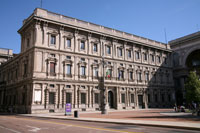 Palazzo Marino
In 1557, at the ripe old age of 83, Tommaso Marino, a wealthy tax collector, decided to build a palazzo on a large plot near the San Fedele Church. The palazzo was designed by Galeazzo Alessi and completed in 1563. At the time the Piazza della Scala didn't yet exist, so the monumental building faced the small piazza San Fedele.
In 1861 the Palazzo was acquired by the city of Milan which soon moved its administration to this building. To this day the Palazzo Marino is still Milan's city hall. The building's current appearance is the result of a major renovation carried out under the guidance of Luca Beltrami, an Italian architect who is best known for his restoration of the Castello Sforzesco.
Monument to Leonardo da Vinci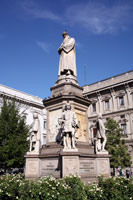 Leonardo da Vinci
Monument
In 1872 a monument was erected at the square in honor of Leonardo da Vinci, considered one of the most multi-talented people to have ever walked on this planet. The monument, sculpted by Pietro Magni, shows Leonardo da Vinci standing on a large pedestal. At the foot of the pedestal stand his four favorite students. Reliefs depict some of the disciplines that da Vinci mastered: painting, sculpting, engineering and architecture.
While Leonardo da Vinci lived in many different cities during his lifetime, one of his most famous works was created during his stay in Milan, when he painted the Last Supper in the refectory of the Santa Maria delle Grazie.