La Scala, as the Teatro alla Scala is locally known, was built at the end of the eighteenth century. The opera house soon became one of the world's most revered venues, and numerous famous works by composers such as Verdi and Bellini premiered here.
History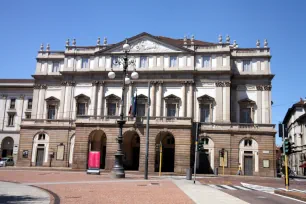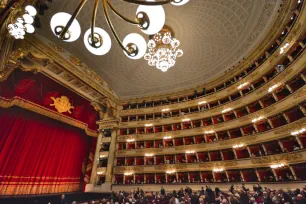 In 1776 a fire destroyed Milan's opera house, the 1717 Teatro Regio Ducale. Empress Maria Theresa, who was also Duchess of Milan, ordered the construction of a new opera house at the site of the fifteenth century church of Santa Maria della Scala, which was razed to make way for the new building.
The new opera house, named Teatro alla Scala after the church, was designed by court architect Giuseppe Piermarini. Construction of the building took just two years and the opera house was inaugurated on August 3, 1778, with Antonio Salieri's l'Europa Riconosciuta.
The opera house was destroyed during the bombardments of Milan in 1943. It was the first public building that was reconstructed after the war, and it opened already on 11 May 1946 with a concert directed by Arturo Toscanini.
The Building
The exterior of the Scala is rather unassuming for such an important building, probably because it was originally located on a narrow street; the Piazza della Scala was only created in 1858. The main facade shows a three-bay carriage entrance topped by a neoclassical front with pilasters and a central pediment.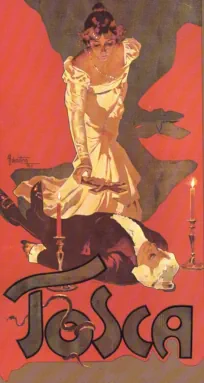 In contrast with the exterior, the building's interior is sumptuous. Its foyer is decorated with fluted columns and large mirrors line the walls. The auditorium, known for its exceptional acoustics, has a seating capacity of just over two thousand. It is lavishly decorated with red velvet, silk and gilded stucco. The chandelier is made of Bohemian crystal and contains 365 lamps. The podium is one of the world's largest, with a total surface of 1,200 square meters.
Museo Teatrale alla Scala
The Theater Museum was founded in 1913 with the purchase of a collection of Jules Sambon, a Parisian antique dealer who had a unique collection of theatrical attributes. The museum depicts the history of the Teatro alla Scala and the history of the opera in general with a display of paintings, statues, set designs, instruments, original musical scores and other theatrical memorabilia. A large section of the museum is dedicated to Giuseppe Verdi, one of Italy's most famous composers.