Piazza Mercanti is a picturesque square just a stone's thrown away from the Duomo. During the Middle Ages, this was the commercial and governmental center of Milan.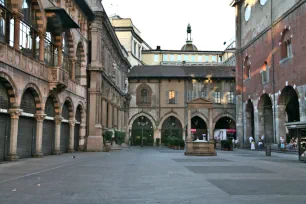 At the time the city hall, law court and even a prison were located at this square. Weddings were announced here as well. Due to its importance and central location, the square was always buzzing with activity. And a market made the square even more crowded.
Today it is not as hectic anymore, though the intimate pedestrianized square does seem to throw you back to the Middle Ages thanks to its historic architecture.
Palazzo della Ragione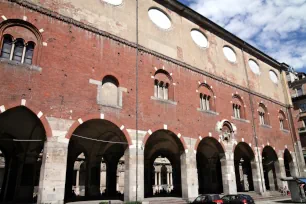 The large building at the center of Piazza Mercanti is the Palazzo della Ragione, which was built between 1228 and 1233. It was constructed on order of Milan's magistrate, Oldrado da Tresseno, who is depicted on a horse in a niche on the exterior of the Palazzo. The statue was possibly created by Benedetto Antelami, one of the era's most renowned sculptors.
The first floor of the Palazzo della Ragione was home to the city's law courts until the eighteenth century, and the open arcade below was the site of a daily market. The top floor was added in 1773 as a storage archive.
Loggia degli Osii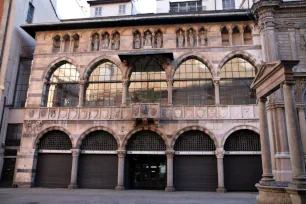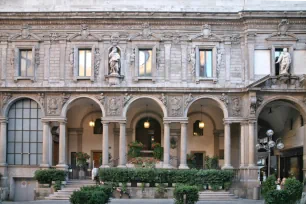 Arguably the most intriguing building at the Piazza Mercanti is the Loggia degli Osii, commissioned in 1316 by Matteo Visconti, who at the time ruled over Milan. The building was constructed as a loggia, with large open arcades, and housed offices of notaries and judges. The building's facade is embellished with statues of saints and coats of arms. From its balcony officials announced weddings, edicts and sentences.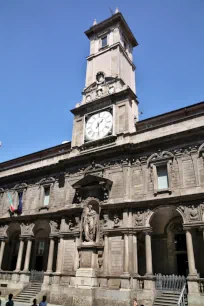 More buildings
Adjacent to the Loggia degli Osii is the Palazzo delle Scuole Palatine, an ornate Baroque palace that was built here in 1645. The sculptures decorating the facade depict Saint Augustine and the Roman poet Ausonius.
To the right of the Scuole Palatine is the Casa dei Panigarola, a beautiful building with pointed arches in Gothic style, decorated with terracotta ornaments. The building was used as an office where official decrees were transcribed.
The north side, along the Via dei Mercati, is dominated by the Palazzo dei Giureconsulti, home to the chamber of commerce. The central tower is known as the Torre del Comune and was built here in 1272 by Napo Torriani, who ruled over Milan until he was defeated by Ottone Visconti in 1277. This event heralded an era of rule by the Visconti over Milan, which would last until the mid-fifteenth century. The statue in the niche depicts Saint Ambrose, patron saint of Milan.