The Arco della Pace (Arch of Peace) is a triumphal arch, initially built in the early nineteenth century as part of the 'Foro Bonaparte' – a modern version of a Roman Forum – to celebrate Napoleon's victories.
The emperor's ouster in 1814 brought a premature end to the construction of this forum, and the arch is one of only two completed structures. Today the Arco della Pace stands at the center of a pedestrianized plaza, at the edge of the Sempione Park.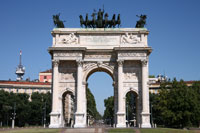 Arco della Pace
Victory Arch
The arch was designed by local architect Luigi Cagnola as a triumphal arch celebrating Napoleon's victories, and was originally known as the Arco delle Vittorie (Arch of Victory). Its construction started in 1807, but when Napoleon abdicated as emperor in 1814 progress was halted.
Arch of Peace
In 1815, with the Habsburgs now in charge, the arch was renamed Arco della Pace (Arch of Peace) after the Congress of Peace that was held that year in Vienna to decide on Europe's post-Napoleonic future.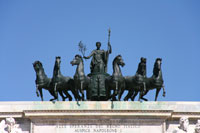 Sestiga della Pace
Work only resumed many years later, in 1826, and by the time the arch was inaugurated in 1838 on the occasion of the crowning of Ferdinand I as king of Lombardy-Veneto, its creator Luigi Cagnola was long dead. Ferdinand I dedicated the arch to Francis I but another change of power in 1859 resulted in the rededication of the arch to the newly unified Italy.
The Design
The design of the Arch of Peace was based on the Arch of Septimius Severus at the Forum Romanum in Rome, with a large central passageway flanked by two smaller ones.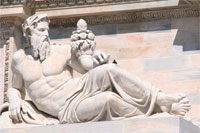 Ticino River
The arch is clad in Crevola marble and decorated with Corinthian columns, bas-reliefs and sculptures. The four large statues in front of the attic are allegorical representations of the rivers that flow through the former kingdom of Lombardy-Veneto: the Adige, Po, Ticino and Tagliamento.
On top of the arch stand three sculpture groups. The central one – the Chariot of Peace – shows a six-horsed chariot, sculpted by Abbondio Sangiorgio. The statues on either side of the arch were created by Giovanni Putti and are known as the Victories on Horseback. The sculptures were intended to face Paris, but now face the other way, towards the city. Bas-reliefs along the sides of the arch depict post-Napoleonic events in Italian history.