The Giardino della Guastalla is undoubtedly one of Milan's most beautiful public gardens. The sixteenth-century garden is decorated with several monuments and a Baroque pond.
Guastalla College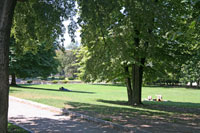 Giardino della Guastalla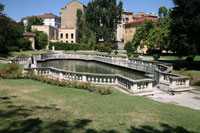 Fish pond
The garden was created thanks to Paola Ludovica Torelli, Countess of Guastalla. The countess was widowed at an early age and she used her fortune to build a college for daughters of impoverished aristocratic families.
The Guastalla College was built near the Ca'Granda by architect Pellegrino Tibaldi. The garden, created in 1555, was meant for exclusive use of the college. In 1937 the college moved to another location and today only the garden remains.
The Garden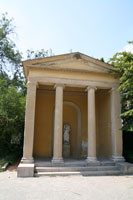 The temple
The Giardino della Guastalla is the oldest public garden in Milan. The smallish garden, only 1.2 hectare (3 acres) in size, is one of the city's most appealing. It first opened to the public in 1939.
The current layout in Italianesque style dates back to the seventeenth century, when the main highlight of the garden – the Baroque fish pond – was created. The pond, situated at the west side of the garden, is enclosed by an elegant granite balustrade. Nearby is a small neoclassical temple, a creation of Luigi Cagnola, an architect best known for his Arco della Pace. Another seventeenth-century structure is embellished with terra-cotta statues depicting Mary Magdalene and the angels.
The rest of the garden, centered around an open grassy area, is nicely shaded by large trees and features several statues.