The Ca'Granda (Great House) was built by order of Francesco Sforza who wanted to centralize Milan's thirty hospitals into one large building, the Ospedale Maggiore (Large Hospital).
The Ospedale Maggiore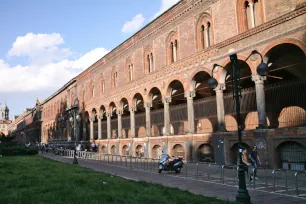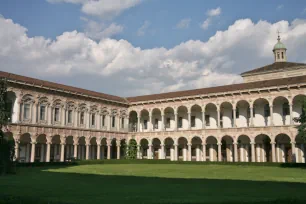 The enormous but elegant structure was designed by the Tuscan architect Antonio di Pietro Averulino – popularly known as Il Filarete, who also worked on the Sforzesco Castle and the cathedral. Filarete designed a large rectangular building in Renaissance style arranged around a series of inner courtyards.
Construction
Construction of the building started in 1456 but when Filarete died in 1469, only a part of the right wing was completed. Guiniforte Solari, who wasn't very fond of Filarete's Renaissance style, continued with the construction, but this time in his preferred Gothic style.
Work continued on and off during the seventeenth and eighteenth centuries, when the left wing was built. The long construction time resulted in an amalgam of different styles, with neoclassical and Baroque elements on top of the original Gothic and Renaissance architecture.
Maintenance
In order to cover the cost of the hospital's maintenance, the hospital management came up with an original idea to receive additional funding. They hired artists who painted portraits of benefactors. The paintings were exhibited – sometimes even outside the hospital – so everyone could see who contributed.
Ca'Granda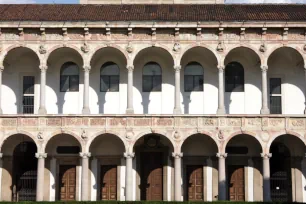 The hospital moved to a new location in 1939 and has since been known simply by its nickname Ca'Granda. Ca'Granda was badly damaged during the Second World War, and was partially rebuilt and renovated to accommodate the Università Statale, Milan's university.
Architectural Features
The magnificent brick facade is 282 meters long. The oldest, fifteenth-century section is the most notable, with beautiful Renaissance arcades on the ground floor and Gothic arched windows with terra-cotta decorations on the top floor. The largest, central courtyard is the Cortile Maggiore, bordered by two-storied arcades in Renaissance style.
Across the entrance is the Chiesa dell'Annunciata, a small domed church with a square floor plan that was built in 1637 to a Baroque design by a trio of architects.