Milan isn't exactly blessed with lots of green space, but the Giardini Pubblici (Public Gardens) is a welcome exception. Created in the eighteenth century, the park is now the largest in the center of the city.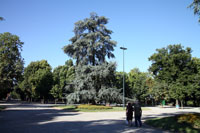 Giardini Pubblici
The park is officially known as the Giardini Pubblici Indro Montanelli, honoring the late Italian journalist Indro Montanelli.
History
The park was created in 1782-1786 when architect Giuseppe Piermarini – the designer of the acclaimed Teatro alla Scala – joined several gardens and orchards together that formerly belonged to the monasteries of San Dionigi and Carcanine, which were closed by order of the Habsburg rulers. The park was originally laid out in a typically French style, with geometric flowerbeds and straight lanes.
It was enlarged in 1857 when Giuseppe Balzaretto added the garden of the Palazzo Dugnani to the Giardini Pubblici. Balzaretto also landscaped large sections of the park in the then more fashionable English style and created a natural looking landscape with rock formations and a lake. The park's current appearance stems from the late nineteenth century, when architect Alemagna renovated the park after several exhibitions were held here between 1871 and 1881.
Statues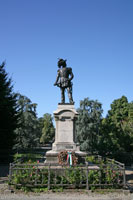 Luicano Manara
The mostly informal layout of the Giardini Pubblici leads to pleasant discoveries such as a lake, several springs and many statues. The park is dotted with ten statues of famous Milanese figures from the Risorgimento era in the nineteenth century, when Italy was unified. They were installed here at the turn of the twentieth century. Some more modern statues were added later near Piazza Cavour – which happens to be named after the Count of Cavour, another leading figure of the Risorgimento and the first prime minister of Italy.
Palazzo Dugnani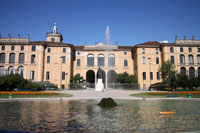 Palazzo Dugnani
Just north of Piazza Cavour is the Palazzo Dugnani, a seventeenth century palazzo built in the style of a grand country residence. In front of the building are a series of flowerbeds arranged around a central pond and fountain.
Since 1846 the palazzo has been in the possession of the city of Milan, who used it to house the Natural History Museum until 1893, when the museum moved to its current purpose-built home at the eastern end of the park.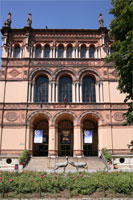 Museum of
Natural History
The Palazzo Dugnani later housed another museum, the Museum of Cinema and Italian Cinematography, which moved in 2009 to a former tobacco factory in the northeast of Milan.
Natural History Museum and Planetarium
Near the eastern edge of the park, along Corso Venezia, stand the buildings of the Natural History Museum and the Planetarium side by side. The Natural History Museum was founded in 1838 with the donation of the collections of Giuseppe de Cristoforis and Giorgio Jan. It is housed in a 1893 Neo-Romanesque building with beautiful terracotta decorations created by Giovanni Ceruti. The Planetarium was built in 1930, after a design by Piero Portaluppi.