The Rotonda della Besana is a beautiful Baroque structure in Milan, consisting of a former church surrounded by a peaceful garden and enclosed by a long arcade.
Cemetery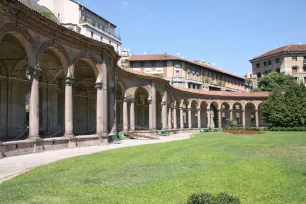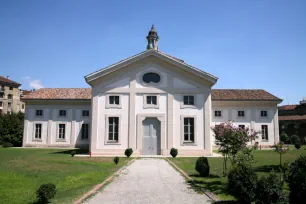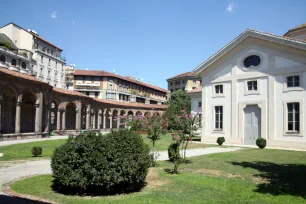 The origin of the Rotonda della Besana goes back to 1695 when a cemetery was created here for the dead of the Ospedale Maggiore, a large hospital that was housed in the nearby Ca'Granda.
The church at the center of the cemetery was dedicated to St. Michael. It was built between 1695 and 1713 after a design by Attilio Arrigoni, who created a modest brick structure with a floor plan in the shape of a Greek cross. The petal-shaped arcade was built around the church from 1719 to 1731 by Francesco Croce, who also renovated the church.
Laundry
In 1783 the Rotonda della Besana was closed for health reasons, after which it stood empty for a while. During the Napoleonic occupation, Eugène Rose de Beauharnais, Viceroy of the kingdom of Italy, proposed to turn the Rotonda into a Pantheon for Italy's heroes, but the project was never realized. Instead, the building became first a hospital for patients with contagious diseases, and later it was used as a hospital laundry.
The Rotonda della Besana Today
The church is now deconsecrated and used as an exhibition space for temporary exhibitions. Occasionally the building is also used for cultural events.
On Sundays the Rotonda is popular with young parents who can let their children play in the garden in the knowledge that they are protected from traffic. It is a great place to relax and spend some quiet time away from the hustle and bustle of Milan.