The Plaza de Oriente is a pedestrianized square bordering Madrid's Royal Palace. The square was laid out in the mid-nineteenth century and is adorned with small gardens and many statues.
The square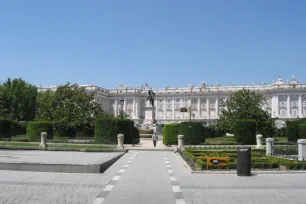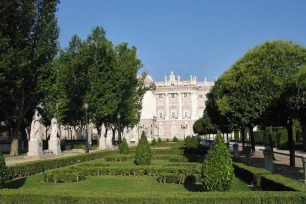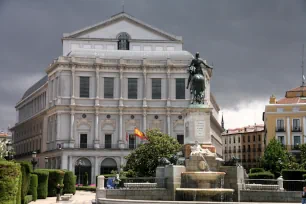 The square was created in the first half of the nineteenth century, but its current layout stems from a redevelopment at the end of the twentieth century which turned the square into a pedestrianized zone, popular with tourists who want to relax after visiting the adjacent Royal Palace. The Plaza de Oriente is located at the site of the city's former Habsburg Palace, the ruins of which were demolished in 1997 when a parking garage was created below the square.
Trees and formal gardens are arranged around an imposing equestrian statue of King Philip IV. The two rows of statues that line the gardens were meant to be placed on top of the Royal Palace's balustrade. King Charles III however refused this, arguing that the statues would be too heavy and could easily fall off the roof. The statues depict Roman, Visigoth and Christian rulers.
Creation
During his short reign as King José I, king of Spain, Joseph Bonaparte (Emperor Napoleon's brother) launched a project to open up the east side of the Royal Palace with the creation of a new square and a long boulevard which would lead straight to Plaza de Cibeles. Several buildings were demolished in the process, including the royal library, churches and residential buildings.
After the French were ousted, the plans for the boulevard were put aside, but King Ferdinand VII pressed on with the development of the square and launched the idea of building a theater near the square. Progress was slow however, and it would take until the mid 1850s, during the reign of Isabel II, before the square and bordering Royal Theater were completed.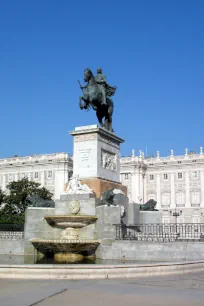 Monument to King Philip IV
At the center of the Plaza de Oriente is the large equestrian statue of King Philip IV set upon a fountain decorated with allegorical statues. The statue was created in the 1639 by the Italian sculptor Pietro Tacca. It was the first successful attempt at creating a statue with a prancing horse. Galileo was responsible for the calculations of the stability and suggested to Petro Tacca to make the rear section of the horse in massive bronze and the rest hollow in order to prevent it from falling over.
The statue was installed in the gardens of the Buen Retiro Palace, today known as the Parque del Retiro. In 1843, it was moved to the center of the Plaza de Oriente and placed on a large fountain decorated with statues of lions and allegorical figures.