The Mercado de San Miguel is an early twentieth-century covered market in the historic center of Madrid. While there are several more covered markets in Madrid, this one is easily the most charming.
Iglesia de San Miguel de los Octoes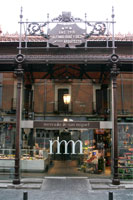 Mercado de San Miguel
The market's name stems from the Iglesia de San Miguel de los Octoes, a thirteenth-century church that was located here. The church was heavily damaged in 1790 by a fire that broke out at the nearby Plaza Mayor. Attempts were made to restore the church, but in 1809 Joseph Bonaparte – Brother of Napoleon I – ordered its demolition after the royal architect Juan de Villanueva deemed the building unsafe.
Construction
The open area created by the demolition of the church was used as a fish market. Already in 1835, plans were drawn to create a covered market, but it would last until 1911 before the plans got traction. Construction finally started in 1913 under the supervision of Alfonso Dubé. The covered market, which opened in May 1916, was modern and spacious for its time with an iron frame, wooden roof and granite floors.
The Market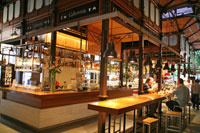 Inside the Mercado
Today it is the last iron market hall in Madrid. Other, older iron covered markets have all been demolished. At the end of the twentieth century, the future of the Mercado de San Miguel was also in doubt due to growing competition from modern supermarkets, which led to a declining number of visitors and vendors. The market eventually began to fall in to disrepair.
The Mercado de San Miguel was saved in 2003, when a group of individuals formed the El Gastrónomo de San Miguel, which acquired the marketplace. Their aim was to restore the Mercado and adapt it to the twenty-first century.
The market started its new life in 2009 when it reopened with thirty-three vendors selling fresh produce, fish, pasta, meat and even cookbooks in a beautiful and pleasant atmosphere. There are also a number of cafés and mini-restaurants which offer specialty food, from tapas to foreign food. For the thirsty visitors, there are several bars offering everything from coffee or beer to wine and champagne.