The Atocha Station was the first railway station in Spain. It was inaugurated in 1951 when Spain's second railroad connected Madrid with Aranjuez, a town some 47 kilometers from Madrid.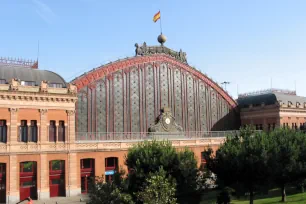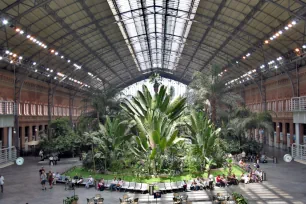 The first railroad in Spain was built three years earlier and connected Barcelona with Mataró. The railway station was originally named Estación de Mediodia, but it is now known as Estación de Atocha or Atocha Station.
History
The original station was largely destroyed by fire some ten years after its construction. In 1892, it was replaced by a larger station with a wrought-iron vault. It was designed by Martín Alberto Palacio Elissagüe who had earlier collaborated with Ricardo Velázquez Bosco on the Palacio de Cristal in the Retiro Park.
Expansion and Renovation
As part of a large infrastructure project, the Atocha Station was expanded in 1985 with a new structure designed by Rafael Moneo.
The train tracks were moved from the original structure to the new terminal, while the 'old' Atocha Station was completely renovated and turned into a large rest area featuring a tropical garden, shops and eateries. Another part of the project replaced the bridges on the square in front of the station – the Plaza del Emperador Carlos V – by tunnels. As a result, the passers-by can now enjoy an open view of the beautiful train station.
The new terminal quadrupled the capacity of the Atocha Station, making it the largest railway station in Madrid. The AVE, Spain's high speed train, connects the Atocha Station to Sevilla and Córdoba.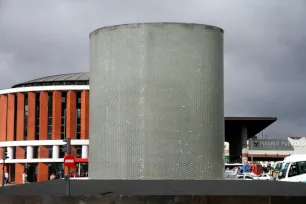 Monument to the victims of March 11
On March 11, 2004, Muslim terrorists placed bombs in several trains, killing 192 people. One of the trains was stationed in the Atocha Station at the time of the explosion. A cylindrical glass monument near the station, the Monumento a las víctimas del 11m, honors the victims of the terrorist attack.