The Wellington Arch is a triumphal arch named after the Duke of Wellington, who defeated Napoleon Bonaparte in 1815 at Waterloo. The arch is home to a small museum.
Construction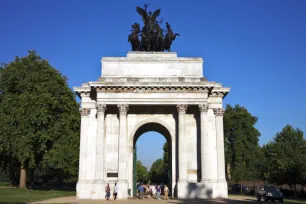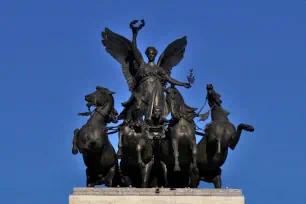 Designed by Decimus Burton, the construction of Wellington Arch (and Marble Arch to the north) was ordered in 1825 by King George IV, who wanted to create a landmark that would commemorate British victory in the Napoleonic Wars. The arch was built between 1826 and 1830 and was originally known as Green Park Arch and later Constitution Arch.
The arch sits to the south of Hyde Park and was to serve as a gateway towards Buckingham Palace and, hence, an entrance to Central London for those arriving from the west. It was originally located right near the Apsley House, once the home of Sir Arthur Wellesley, the first Duke of Wellington, and now a museum displaying the duke's life and work. At the end of the nineteenth century, the arch was moved a bit to its present position due to a road widening project.
The Quadriga
The idea was to decorate the arches with reliefs and sculptures in the vein of the Roman triumphal arches, but due to a lack of funds it was left unadorned. In 1838, it was decided that the first Duke of Wellington would be honored with a large statue that was to be placed atop the arch. Hence the current name of the arch.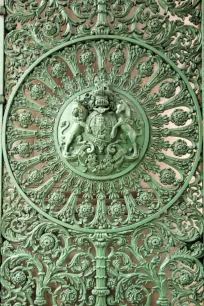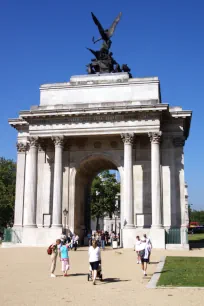 However, the equestrian statue – designed by Matthew Coates Wyatt and placed on the arch in 1846 – was heavily criticized; it was considered too large in proportion to the arch and the Queen reportedly called it an eyesore. In 1883 the nine-meter (30ft) tall statue was removed from the arch and later transported to Aldershot, where it stands today.
Lord Michelham of Hellingly, a wealthy banker, proposed to fund a new sculpture to replace Wellesley's statue. Designed by Adrian Jones, this sculpture in honor of King Edward VII is the one we see today: an enormous bronze sculpture group that depicts the angel of peace who descends on the chariot of war, pulled by four horses and led by a small boy. Lord Michelham's oldest son, Herman Stern, acted as a model for the boy.
Use of the Arch
Wellington Arch is hollow inside, so over the years, it has had several different uses.
Until 1992, it housed the second-smallest police station in London. Currently, it boasts a three-story museum that educates visitors on the history of the arch. There's also a balcony that allows good views of other nearby landmarks.
Because it was moved to accommodate traffic in the growing city of London, Wellington Arch is stranded on Hyde Park Corner, an island surrounded by heavily trafficked streets, so it sometimes tends to be overlooked by tourists perusing the city. However, English Heritage Foundation – which oversees the monument – is attempting to make the arch more accessible and visitor-friendly.