Once given a place of honor in front of Buckingham Palace but later relegated to Hyde Park, London's Marble Arch is modeled after one of Rome's most famous monuments.
John Nash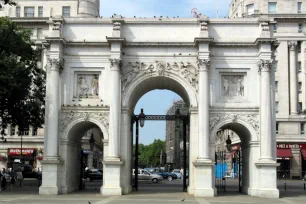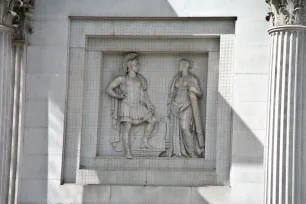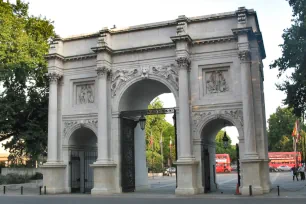 Marble Arch was designed in 1827 by John Nash as the triumphal gateway to Buckingham Palace. At the time John Nash was an accomplished architect who was largely responsible for changing the architectural face of the city during the early nineteenth century thanks to his work on Regent Street, Buckingham Palace, Cumberland Terrace and his master plan for the Marylebone area, now the area around Regent's Park.
Move
In 1851 the arch was moved to its current site at the northeast corner of Hyde Park. Some stories say it was moved because its center arch was too narrow for coaches to pass through, others claim that when the palace was expanded in 1851, Queen Victoria requested more personal space for her family.
Architecture
Nash modeled Marble Arch on Rome's famous Arch of Constantine, built in the fourth century. Both structures feature Corinthian columns and three arches: one large central arch and another on either side. The top of the arch is adorned with sculpted relief panels. They represent England, Scotland, and Ireland. The arch was also decorated with a number of fine sculptures, all of which no longer remain with the arch but have been moved elsewhere.
In 1829 King George IV commissioned an equestrian statue of himself that was to be placed on top of the central arch. It never ended up there though, and was instead installed on a plinth at Trafalgar Square, where it can still be found.
Passing through
Though the gate once served as the main entrance to the palace, today – to many Londoner's distress – it is found at some kind of no man's land, serving as a gateway between the neighborhoods of Bayswater and Marylebone. Back when it was located near Buckingham Palace, only senior members of the Royal Family as well as the Royal Horse Artillery and King's Troop could pass through the Marble Arch. Today, however, you can freely walk through the arches.