One of the large-scale works of architect John Nash, Cumberland Terrace was part of a grand development plan of what is now known as Regency London. The palatial terrace was designed in the vein of a Neoclassical temple.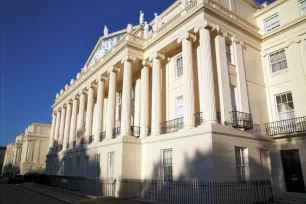 Sitting on the eastern side of Regent's Park in the borough of Camden, Cumberland Terrace is an imposing block of houses – thirty-one in all – designed by English architect John Nash in a grand Neoclassical style. The homes were built by William Mountford Nurse and completed in 1826. They were named for one of the king's eight brothers, the Duke of Cumberland.
The Buildings
This ornate block of buildings is four stories high and is organized into three groups, with beautiful triumphal arches linking the groups and leading into small courtyards. The main group has fifteen homes, with the five in the center projecting forward.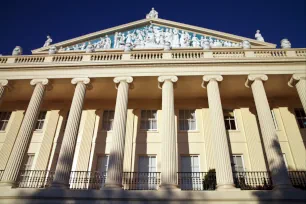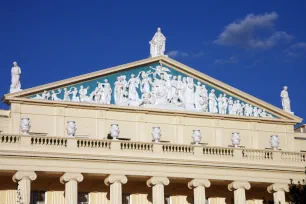 The ground floor of the three middle houses in that group of five projects out even further and along with the house on either side forms a stepped platform from which a screen of Ionic columns extends up to the second floor. Urns sit atop the balustrade, and the whole composition culminates in a pediment decorated with reliefs and crowned with statuary.
The remaining sixteen homes are recessed and feature fluted Ionic pilasters situated between the windows to the first and second floors, rising from a ground-floor platform, not unlike the main group. An attractive wrought-iron balcony runs in front of the first floor windows.
The inside of the homes are said to be quite ornate as well, with circular staircases and large bedroom fireplaces, ornate cornices, and much more. Many of the homes are still occupied as single-family residences, but some have been converted to flats. The single-family homes cost in the millions of pounds.
Regency Architecture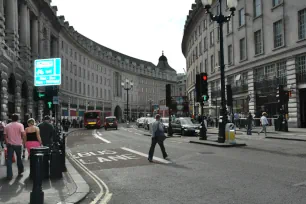 Cumberland Terraces is just one of a number of terraces that were built as part of the 'Metropolitan improvements' that were implemented in what is now known as Regency London, an area that stretches from Regent Street to Regent's Park.
The area is known as such since the development plans were launched by the Prince Regent (who would go on to become King George IV). John Nash created the master plan for the area and is responsible for many of the buildings, including those of Cumberland Terrace. The regal architectural style used for the projects became known as Regency Architecture.
Other Terraces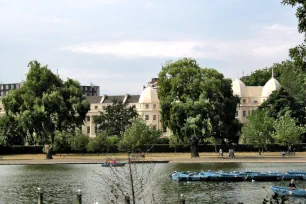 Other, similar terraces were created around the same time Cumberland Terrace was developed. The first series of terraces were built from 1821-1823: York, Cornwall, Sussex and Hanover. Other terraces: the Ulster, Cambridge, Chester, and Gloucester terraces were completed in 1827.
The creation of the terraces helped transform London from an industrial city to a grand metropolis befitting its position as capital of an empire.