An excellent reminder of Britain's strong naval heritage, the HMS Belfast has been in on display in London since 1971. The cruiser is permanently docked across the River Thames from the Tower of London.
The HMS Belfast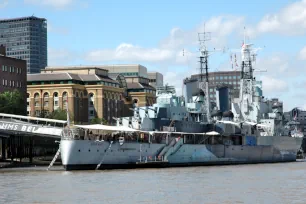 The HMS Belfast was one of the "Edinburgh Class" of large light cruisers, a class that followed the already successful "Southampton Class" of cruisers.
Ordered in 1936 and designed to be outfitted with sixteen 6-inch guns in four quadruple turrets (though only three were used in the end) on a displacement of more than 10,000 tons, it was built alongside its sister ship, The Edinburgh, and launched in 1938 by Neville Chamberlain. The ship was commissioned in 1939 into the Royal Navy under the command of Captain G. A. Scott.
The ship is named after the capital city of Northern Ireland. The prefix HMS stands for 'Her Majesty's Ship', referring to the British Queen.
The Ship's History
When the war with Germany began later that year, the HMS Belfast became part of the 18th Cruiser Squadron and swiftly intercepted the German liner SS Cap Norte, which was trying to return to Germany disguised as a neutral vessel. In 1939 a mine severely damaged the cruiser.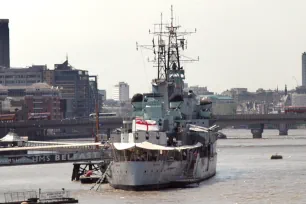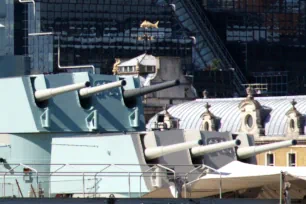 She was reinstated to active duty in 1942 and went on to distinguished service throughout World War II, spending much time in the icy Arctic waters. The ship was also involved in several 1944 operations and was part of the Eastern Naval Task Force on D-Day.
The ship was also the first of several British ships to go into action off the coast of Korea during the Korean Conflict of the early 1950s. In the late 50s and early 60s, she performed peacetime duties in the Far East and was finally decommissioned in 1963. Instead of heading to the scrapyard, local historians fought to save the HMS Belfast, and she was brought to London in 1971 to function as a floating maritime museum.
Visiting the HMS Belfast
The nine decks of the HMS Belfast are explored each year by tens of thousands of visitors interested in the maritime history of the British Commonwealth. As a branch of the Imperial War Museum, the ship is now maintained by that entity. It is currently painted in the camouflage colors it boasted during much of the Second World War.