Originally established to pay homage to the British contribution to World War I, the Imperial War Museum now covers all major twentieth-century conflicts involving Great Britain.
Museum History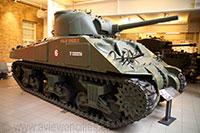 M4 Sherman Tank
London's Imperial War Museum was founded in 1917 "to record the story of the Great War (WWI) and the contributions made to it by the peoples of the Empire".
The museum was officially opened by act of Parliament in 1920 and its first location was in the city's magnificent Crystal Palace, an astounding glass building in Hyde Park. Four years later, it was relocated to two small galleries adjoining the Imperial Institute, and in 1936, it was reopened in the central portion of the former Bethlem Royal Hospital for the insane in the Southwark area of the city.
In 1939, the trustees of the museum decided that it would be pertinent to also include World War II artifacts at the Imperial War Museum. Today the museum covers all major military events of the 20th century in which Great Britain was involved.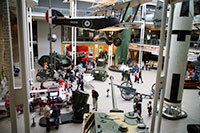 Large Exhibits Gallery
Exhibits
After entering the museum, you are welcomed by an array of tanks, warplanes, artillery and other war machinery in the museum's large exhibits gallery. But the museum shows more than just killing machines. There are many galleries focusing on the effects of war on both the military and civilians.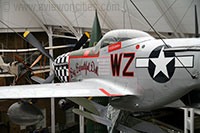 P51-D Mustang
The largest exhibits focus on World War I and II, but other major conflicts involving Britain since 1945 are also covered including the Cold War, Korean War, Falklands and the Gulf War. One of the highlights is a walk-through recreation of a front-line trench in 1916. Another highlight is the Secret War exhibition, which focuses on Britain's secret agencies MI5 and MI6.
A large part of the museum's collection is not on display but can be accessed for study. It features approximately 150,000 works of art, including 14,000 paintings, 30,000 international war posters, a large video and photo archive and more than 10,000 private documents of people involved in warfare.
Museum Building
The museum is housed in a building originally erected for the Bethlem Royal Hospital (Bedlam), a hospital specialized in the care of the insane. The first stone of the building – designed by architect James Lewis – was laid in 1812.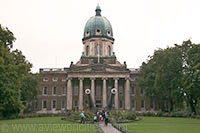 Imperial War Museum
Three years later the building opened as the new site of the hospital, previously located at Moorfield. The central dome was added later, in 1845, by Sidney Smirke.
In 1930 the hospital moved to a new building near Beckenham. The building's large wings were demolished to make way for a park. The central part of the former hospital building remained and was transferred into a museum, which opened in 1936 as the Imperial War Museum.