Leadenhall Market is a beautiful shopping gallery in the heart of the City of London. The market's history goes back to the fourteenth century, when poultry was sold here. The Victorian-style gallery we see today was built in the nineteenth century.
Roman Forum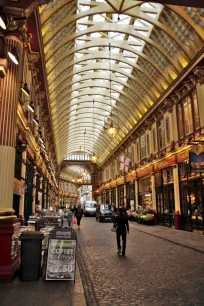 Leadenhall Market is located at the site of the former Roman Forum, the commercial center of the Roman city Londinium. A basilica was built here between 71 and 85 AD, in 140 AD replaced with a larger basilica which measured an immense 52 by 167 meters (172 by 547 ft).
Poultry Market
The history of Leadenhall Market goes back to the fourteenth century. The market was first mentioned in 1345 as the place where foreigners (i.e. non-Londoners) were allowed to sell poultry; the actual poultry market was for local citizens only! The market was held in the courtyard of a building known as La Ledene Hall, a fourteenth-century mansion with a lead roof, hence the name of the current market. Over time, cheese and other food products were also sold at the market.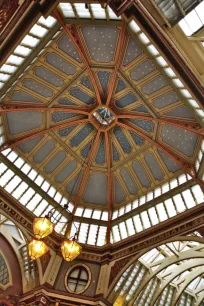 The market was rebuilt between 1439 and 1447 as a garner with a central courtyard for the market. The designer of the building was probably master mason John Croxton, who was also responsible for the Guildhall. After the Great Fire of 1666 destroyed the structure, it was rebuilt, this time as a covered market.
Leadenhall Market
The open-ended, glass-roofed shopping arcade that we see today was designed in 1881 by Horace Jones, architect of the nearby Smithfield Market and the former Billingsgate Market. The design was probably influenced by the Galleria in Milan, designed twenty years earlier and built between 1865 and 1877.
The covered alley connected the former market with Gracechurch Street and Leadenhall Place. In 1885 an additional connection was made with Lime Street to the south. The entrances have beautifully sculpted fronts; the entrance on the Gracechurch Street is especially elaborate. Horace Jones's design of the shops is colorful, while the glass and wrought iron roof allows plenty of light to enter the alleys. An elegantly designed dome covers the crossing.
Even though this was originally a food market, all sorts of shops can be found here today, as well as bars and restaurants.