The Albert Memorial was commissioned by Queen Victoria as a tribute to her late consort, Prince Albert of Saxe-Coburg-Gotha. The High Gothic monument was completed in 1876, fifteen years after Prince Albert died at the age of forty-two.

Prince Albert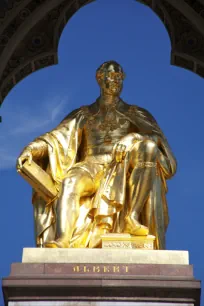 Prince Albert was born in Germany as the second son of the Duke of Saxe-Coburg-Gotha. In 1840, he married his cousin Victoria, who had just inherited the throne of Great Britain. Prince Albert is best known for his support of the Great Exhibition of the World of Industry of All Nations, which was held in 1851 in Hyde Park and became a tremendous success. Six million Britons, or one third of the population, visited the exhibition.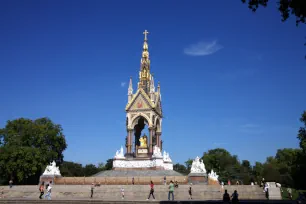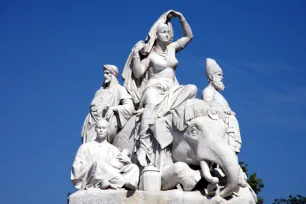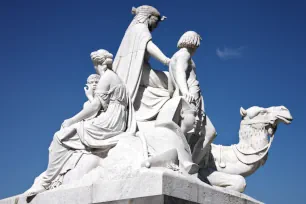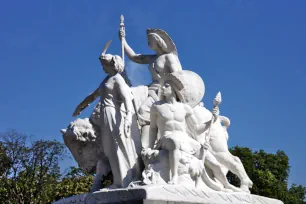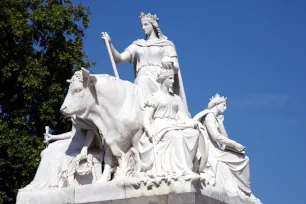 Albertopolis
After the closure of the exhibition, Prince Albert put all his energy on an even larger project. He wanted to provide free cultural education by creating a permanent national exhibition promoting science and culture. Along a broad boulevard near Hyde Park, museums, concert halls and academies would be built.
The grand project, dubbed 'Albertopolis', was unfinished by the time Prince Albert died of typhoid in 1861, but by the end of the nineteenth century a whole cluster of cultural institutions had settled in South Kensington; they include the Royal Albert Hall, the Royal College of Art, the Natural History Museum and the Victoria & Albert Museum.
The Monument
Albert's memorial was appropriately erected opposite the Royal Albert Hall, in the Kensington Gardens, near the location of the Exhibition of 1851. The memorial was commissioned by Queen Victoria as a tribute to her late consort.
The monument, standing 175 feet/53 meters tall, was built from 1864 to 1876 after a Neo-Gothic design by Sir George Gilbert Scott. A 14-feet-tall (4 meters) gilded statue shows Albert seated under a pinnacle, holding a catalogue of the 1851 Great Exhibition. The pinnacle is set on a base with a large frieze. It is adorned with marble reliefs of 178 people, mostly artists.
At each corner are four statues depicting some of Prince Albert's interests: engineering, agriculture, commerce and manufacturing. At the bottom of the steps leading to Prince Albert's statue are four more sculpture groups, symbolizing Europe, Africa, America and Asia.
Restoration
In 1914 the monument was blackened, supposedly to avoid becoming a target of German zeppelin bombing raids. Between 1994 and 1998 the by then decaying monument was restored and Albert's statue was re-gilded.