The red brick Royal Albert Hall was built in the nineteenth century as a multifunctional music and entertainment hall. Today, it is one of London's most recognizable landmarks and a top European performing arts venue.
History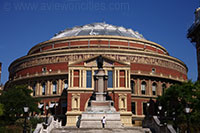 Royal Albert Hall
Built in honor and memory of Prince Albert, the husband of Queen Victoria and the official Prince Consort, Royal Albert Hall was a tribute to the prince's affinity for the arts and his desire to establish in the city a permanent venue for the public to enjoy a variety of concerts, dance, and theatrical performances. The venue would be part of the so-called Albertopolis, which was to become a center for the arts and science.
After the prince's untimely death in 1861, Queen Victoria hired Captain Francis Fowke and Major-General H.Y. Darracott Scott of the Royal Engineers to design this proposed building, which was dubbed Great Hall. It is said that the two men were greatly influenced in their design by the ancient amphitheaters of Rome and Greece as well as by Gottfried Semper's Opera House in Dresden.
The Building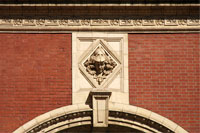 Mascaron on the facade
The circular hall was constructed of red brick with terracotta ornamentation. In contrast, however, the dome at the top of the building – designed by Rowland Mason Ordish – was fashioned from steel. Records show the dome was first constructed in the city of Manchester, just to be sure it fit together properly, then disassembled and brought to London.
Opening
In March 1871, the hall was officially opened with a speech by Edward, the Prince of Wales, who stood in for the often stoic Victoria, who was too overcome with emotion to speak at the event. A concert followed the ceremony and, to everyone's surprise, it was immediately noticed that the hall had serious acoustic problems, including echoes that made it seem as if you were hearing each note twice. The problem was finally cured completely in 1969, nearly a century after the opening of Royal Albert Hall.
Renovations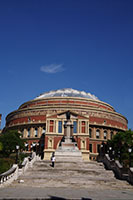 A series of renovations were completed from 1996 to 2004, making the hall state-of-the-art and improving the acoustics even more. The grand pipe organ was also rebuilt, now making it the largest in the British Isles, with nearly ten thousand pipes.
Performances
Royal Albert Hall hosts one of the world's largest festivals of Western classical music – the Proms. The hall has also played host to a number of well-known pop artists throughout the last several decades, including The Beatles, The Rolling Stones, ABBA and Meat Loaf. But the Royal Albert Hall isn't just a music venue: over the years it has been used for events such as ice skating, tennis and even sumo wrestling.