The Burlington Arcade is the most famous and most sumptuous of the covered shopping arcades that opened in the nineteenth century in the posh neighborhoods of St. James's and Mayfair.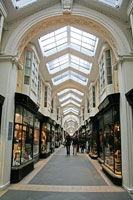 Burlington Arcade
Covered arcades, which had started to appear in abundance in early nineteenth century Paris, were the precursor of upscale shopping malls. They protected shoppers from traffic and inclement weather, and they proved equally popular in rainy London. These arcades were home to high-end shops that catered almost exclusively to the well-off.
History
The reason why Burlington Arcade came into being is quite unusual. It all started when Lady Cavendish, who lived with her husband Lord George Cavendish in Burlington House, got fed up with passers-by throwing rubbish in their garden. A wall was built to separate the long and narrow garden from the street, but this didn't help much since people just flung their rubbish over the wall. So Lord Cavendish asked architect Samuel Ward to build a covered shopping arcade.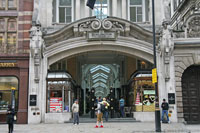 Piccadilly facade
Ward took inspiration from the existing covered 'passages' in Paris and created a covered arcade with a glass roof and seventy-two elegantly designed store fronts in mahogany. Construction started in 1818 and the arcade opened the following year. Little has changed since, except for the bombastic facade on Piccadilly Street which was added in 1911 by Arthur Beresford Pites and the floor, which was originally in wood but now in stone.
During the war Burlington Arcade was damaged by bombs but it was completely restored in the 1950s.
Shops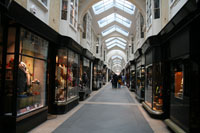 Burlington Arcade Interior
From its inception, Burlington Arcade has always been a destination for the most demanding shoppers. Many of the shops are Royal Warrant holders, which means they supply goods to the British Royal Family. The shops are quite exclusive and you won't find any high street chains here. The shops sell mostly luxury goods including leatherware, watches, shoes, high-end cameras, jewelry, accessories, perfume and gifts.
Beadles
In early nineteenth-century London, there was no police force and the streets were extremely unsafe. To provide a safe environment for shoppers in his arcade, Lord Cavendish decided to employ former members of his regiment of so-called Hussites to maintain order. These private guards, who are called 'Beadles' are still present, clad in formal attire with a top hat and tail-coat. They enforce the rules which include no singing, whistling, running or opening an umbrella. There used to be armchairs at either end of Burlington Arcade where they could rest, but today's Beadles no longer enjoy that luxury.
Other arcades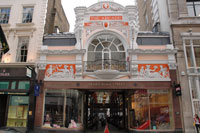 Royal Arcade
Burlington Arcade isn't the only arcade in the vicinity. Right opposite Burlington Arcade is Piccadilly Arcade, a covered arcade that opened almost a century later, in 1909. The Royal Arcade, between Albemarle Street and Old Bond Street opened in 1880. Also in Piccadilly is Princes Arcade, which opened in 1933 and links Piccadilly with Jermyn Street. A bit more to the south-east, between Pall Mall and Charles II Street is London's oldest arcade, the Royal Opera Arcade. It opened in 1815 and is lit by beautiful circular skylights.