The Cenotaph is a memorial that honors the British soldiers who died in the Great War of 1914-18 and all wars that followed. The memorial is the focal point of Remembrance Day, when the fallen soldiers are commemorated.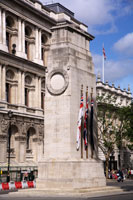 The Cenotaph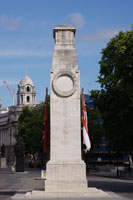 In general a cenotaph (derived from the Greek words κενό τάφο, meaning 'empty tomb') is a monument that honors a deceased person whose remains are entombed or buried elsewhere. In London, the Cenotaph refers specifically to the monument in the middle of Whitehall that was erected in 1920 to remember the soldiers who were killed in the First World War.
Construction
Even though the First World War hostilities ended in 1918, the war wasn't officially over until the Treaty of Versailles was signed at the end of June the following year. That same month a committee to organize peace celebrations invited the celebrated architect Edwin Lutyens to design a memorial for a Peace Parade that was to be held the following month. In just a couple of hours Lutyens created a sketch of a solemn monument. Since it was meant to be a temporary monument it was made of wood and clad in plaster. Construction only took a week.
Despite the victory in the war, the mood was very much one of sorrow for the many lives lost rather than celebratory and the sober monument was deemed very appropriate for the occasion. The Cabinet immediately decided to build a permanent version in stone for the anniversary of Armistice Day. It was officially unveiled on 11 November 1920 by King George V.
The Memorial

The glorious dead
The Cenotaph is surprisingly simple in design despite its significance; during the interbellum the memorial was among the most important landmarks in London.
The monument, built in Portland stone, resembles a large stele. There is barely any decoration apart from two stone wreaths. Flags on the front and back represent branches of the British Armed Forces. Inscriptions read 'The Glorious Death' and, in Roman numerals, the years 1914, 1919, 1939 and 1945.
Remembrance Day
Every year on Remembrance Day – the Sunday closest near November 11 – the Cenotaph is the centerpiece of the Remembrance Day celebrations, when people pay tribute to those who lost their lives in the war. It is also called Armistice Day since on that day in 1918 the Germans signed the armistice that effectively ended the First World War. During the interbellum all citizens across the British Empire observed a two-minute long silence on 11/11 at 11 o'clock.
Today Remembrance Day service is still observed and the occasion is even televised. During the ceremony the Queen and other dignitaries place wreaths and poppies at the foot of the monument.