Officially the Church of the Immaculate Heart of Mary, this church on Brompton Road is better known as Brompton Oratory.
The second-largest Roman Catholic Church in London, the Church of the Immaculate Heart of Mary, often referred to as Brompton Oratory, was consecrated in 1884. The facade and the majestic dome were added later, in 1890. The church was designed by Herbert Gribble, a recent convert to Catholicism who was just twenty-nine when he submitted the design for the church.
Design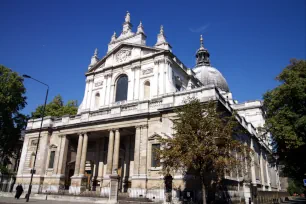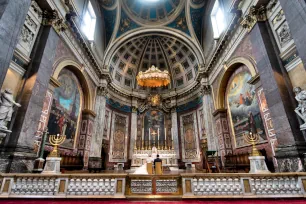 Gribble chose an Italianate design for the church, as he wished to bring this style to the United Kingdom. The building boasts marble columns and a beautiful fifty-foot (15 meter) vaulted dome that graces the London skyline. Much of the artwork inside this place of worship was purchased from foreign churches, such as the marble statues portraying the twelve apostles. Originally located in the cathedral of Sienna, Italy, the statues were crafted by Giuseppe Mazzuoli, a seventeenth-century Italian sculptor who was best known for his voluptuous Baroque style. The eighteenth-century altar was obtained from a church in Rochefort, Belgium.
About the Congregation
The church belongs to the Congregation of the London Oratory, founded in the nineteenth century by Frederick William Faber following the sixteenth-century St. Philip Neri, who founded the congregation in Rome. It is a very conservative Catholic Church; visitors are encouraged to dress modestly when entering the sanctuary.
Celebrities
The church has been the site of a number of British celebrity weddings. In the early years of the church, French poet Stephane Mellarme married there. In the 1889, English composer Edward Elgar wed at Brompton Oratory. And in 1926, it was the site of the wedding of British suspense filmmaker Alfred Hitchcock.