Battersea Park is not very well known to tourists, but at two hundred acres (81 ha) in size, this large park just south of the River Thames provides locals with plenty of room to run around and enjoy the outdoors.
History of the Park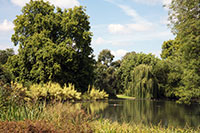 Battersea Park
Opened in 1858 at the site of the former Battersea Fields and designed by Sir James Pennethorne, Battersea Park was popular with Victorian Londoners trying to find a place to relax away from the overcrowded city. The park featured romantic gardens, a lake and waterfalls. The park was also home to the Wanderers Football Club and, in 1864, was the location of the first exhibition game of football played under the rules of the then-newly-formed Football Association of Great Britain.
Nearly a century later, by the 1950s, Battersea Park became "The Festival Gardens", opened in celebration of the 1951 Festival of Britain, a national exhibition that was staged to give Brits a feeling of recovery and rebirth after the destruction of World War II. Water gardens, fountains, and a new "tree-walk" were added at the time.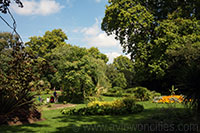 Also part of the transformation was the addition of the Battersea Fun Fair, an area of the park that included the Big Dipper Roller Coaster and several other rides and attractions. The Fun Fair closed in 1977.
Battersea Park Today
Eventually, the site of the Fun Fair was leveled, but many other attractions were added to the park. Today, there's much for both children and adults to see and do.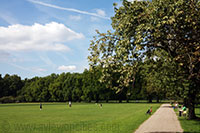 For the kids, there are a few playgrounds to choose from as well as a children's petting zoo. Bicycles can be rented or visitors can bring their own to enjoy as they ride along the park's bike paths. You also have the chance to row or pedal a boat on the park's expansive lake.
There are also bowling fields, cricket pitches, tennis courts, jogging/running paths, football and rugby fields, and more for the sports aficionado. Fishing in the lake is allowed with a permit.
Other Attractions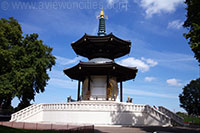 Peace Pagoda
Battersea Park is also home to a number of excellent pieces of sculpture. Among the most popular are Henry Moore's Three Standing Figures and Nicola Hicks' Brown Dog. Art lovers may also want to visit the Pump House Gallery, a contemporary visual arts exhibition space with four floors full of exhibitions. Built in 1861, the Pump House is also a popular location for weddings.
The most eye-catching landmark in the park is the 110ft tall (34 m) Temple of Peace or Peace Pagoda, built in 1985 by Buddhist monks in a span of eleven months. The pagoda is part of a worldwide network of such temples, all built by volunteers.