One of the most recognizable buildings in London, County Hall, the former home of the Greater London Council, is now a popular tourist stop thanks to the London Aquarium and a number of other establishments that are housed in this historic building.

County Hall
History and Architecture
The six-story County Hall, situated on the South Bank of the River Thames, was designed in Edwardian Baroque style by twentieth century British architect, Ralph Knott. Faced in Portland stone, it took about eleven years to build the main building at County Hall, with construction beginning in 1911 and ending in 1922. Additional buildings – known as the North, South, and Island blocks – were gradually added, with the last one finished in the mid 1970s.
Sitting across the Thames from the Houses of Parliament, County Hall was the home of the London County Council, the city's principal local government. The County Council was later replaced by the Greater London Council (GLC), an organization that clashed with the British Government in the 1980s. The group often displayed anti-government sentiment on the outside of the building so all those entering Parliament could view them.
Prime Minister Margaret Thatcher dissolved the GLC in 1986 and the building then served as headquarters for the Inner London Education Authority, which was abolished soon after in 1990.
In the 90s, this impressive building was sold to a private party, who tore down the Island block to make way for a new hotel. Space was rented to a number of retail establishments, including stores and restaurants. Today, County Hall's excellent location makes it a stopping place for tourists searching for a bite to eat or a little shopping time.
What's There?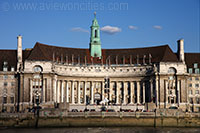 County Hall, located in London's Lambeth neighborhood, is now home to the London Aquarium, a five-star Marriott Hotel, a Premier Travel Inn, and a number of shops and restaurants, the latter ranging from small take-out establishments to fine sit-down eateries.
County Hall also plays host to many traveling or temporary exhibitions. A number of different sized venues are available at the facility to host everything from art exhibits to film festivals and much more.