A grand Regent Street department store, Liberty's has been synonymous with high fashion since the Victorian era. It is housed in a magnificent Neo-Tudor style building from 1924.
Getting Started
The brainchild behind London's wonderful Liberty department store was its founder, Arthur Lasenby Liberty (1843-1917). Liberty, of Buckinghamshire, England, had worked as a retail clerk in his early years and after 10 years in the furnishings and clothing business, he was inspired to start his own shop.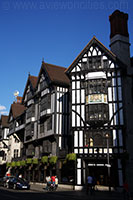 Liberty's
With a small loan and a staff of three, Liberty opened his first store in 1875 at 218a Regent Street. Influenced by what he had seen at the 1862 International Exposition in London, Liberty's store sold ornaments, fabric and objects d'art from Japan and the East.
The shop was a huge success and within a decade's time, Liberty purchased the remainder of 218 Regent Street as well as a number of additional properties on the block.
Soon, the growing store was the place to shop for anybody who was anyone in London society. Liberty's had an "Eastern Bazaar" in the basement, which offered fine home furnishings and carpet, and other departments upstairs. In 1884, Liberty opened his first "costume department", an apparel division that would soon rival the fashion houses of Paris.
Arthur Liberty also developed important relationships with top English designers, many who were key figures in the Arts and Crafts and Art Nouveau movements. So influential was the British store that the Art Nouveau movement in Italy became known as "Stile Liberty".
The Building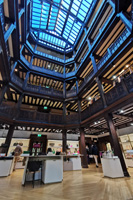 Interior
The current Liberty Department Store consists of two wings. The older portion (which fronts Great Marlborough Street) is the best example of Tudor Revival Arts and Crafts architecture in London and beyond. Built in 1924, the timbers used in its construction came from two British naval ships: the HMS Hindustan and the HMS Impregnable.
The building was designed by the father and son team of Edwin T. and Edwin S. Hall. Three light wells form the main focus of the buildings and each is surrounded by several additional small rooms that give the store a homey feeling, which was Liberty's goal. (He called it Chesham Place, after the town where he grew up.) The rooms often had fireplaces and the store boasts warm touches, such as decorative elevators instead of escalators, small intimate staircases, wood balconies, and sparkling glass atriums.
Truly, Liberty's is one of the most aesthetically pleasing stores in London and a delightful place to shop or just "window" shop. At Christmastime, wandering through the store is a true holiday treat, as thousands upon thousands of twinkling lights adorn the ceilings, creating a sparkling holiday wonderland.