The Duke of York Column was built in 1831-1834. It rises to a height of over forty meters, occupying a prominent spot on Waterloo Place, a square flanked by the palatial Carlton House Terraces.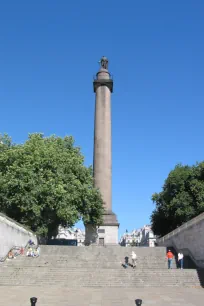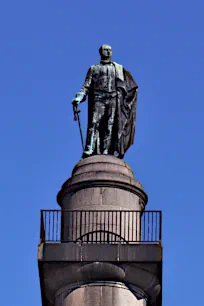 The Duke of York
Prince Frederick Augustus, better known as the Duke of York, was the second and favorite son of King George III. As Commander-in-Chief of the British army, he soon recognized the army was outdated, and the duke carried out significant reforms to modernize and improve the army. Those reforms would later prove vital in the Napoleonic Wars.
Shortly after his death in 1827 all British soldiers donated one day's wage for the construction of a monument in honor of the Duke of York.
The Column
A committee selected a design created by the English architect Benjamin Dean Wyatt, who came up with the idea of a huge Tuscan column crowned with a statue of the duke.
The bronze statue, more than four meters tall, was created by Richard Westmacott and stands on a small circular platform. Below his feet is a small balcony, which can be reached by a spiral staircase inside the 34-meter-tall column (112 ft) – 42 meters including the base. At the time of construction, the story went that the column was built so tall because the duke, who died two million pounds in debt, was trying to escape his creditors.
The more famous Nelson's Column at Trafalgar Square is even taller, but was built almost a decade later.
Waterloo Place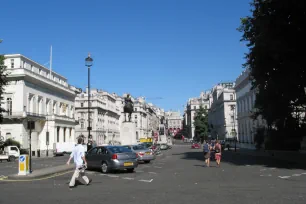 The granite column occupies a prominent spot at Waterloo Place, right above a flight of steps, and overlooks The Mall and St. James's Park.
Waterloo Place was created in 1929 when Carlton House, the former residence of King George IV, was demolished. The square is flanked by two large, grand buildings known as the Carlton House Terraces. The terraces were designed by John Nash, George IV's favorite architect, who is best known for his design of Buckingham Palace.
There are many more sculptures at Waterloo Place besides that of the Duke of York. In front of the duke's column stands an equestrian statue of King Edward VII. No less than six sculptures border Waterloo Place and another three, including the Crimean War Memorial, can be found at the northern side of the square.