The Lloyd's building is an iconic modern office building that was constructed in 1986 for the Lloyd's insurance company. At the time, the construction of such a futuristic looking building in London's historic heart was quite controversial.
Lloyd's
Lloyd's Building
The building was commissioned in the late 1970s by the insurer Lloyd's of London. Its name stems from the seventeenth century Edward Lloyd's Coffee House, where shipowners and insurers met to discuss the insurance premiums.
The insurer would write his name at the bottom of a paper which described the planned route and the ship's cargo, hence the word underwriter. These dealings led to the founding of Lloyd's in 1688 which would grow during the following 300 years to become the world's leading insurance market.
A new HQ
To accommodate the organization's constant growth, Lloyd's moved in 1774 from its original location on Pope's Head Alley to the Royal Exchange.
Side view
In 1928 it settled at its current site on Lime Street in a purpose-built structure designed by Sir Edwin Cooper. After an initial expansion across the road proved too small yet again, Lloyd's decided to erect a new headquarters building and approached architect Richard Rogers, of Centre Pompidou fame.
Controversial Design
Rogers's proposal for the new Lloyd's building was just as controversial as his co-designed Centre Pompidou in Paris, due to its so-called High Tech style design, where functional elements such as pipes are moved to the outside of the building to create more interior space.
The exterior is more refined than that of Centre Pompidou however, with polished stainless steel and glass instead of a cacophony of colors.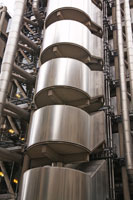 Exterior detail
Nonetheless, when Richard Rogers's design was shown to the public in 1978 it caused quite a controversy as it contrasted sharply with the centuries old buildings in the area and in particular the adjacent historic Leadenhall Market.
The Building
The Lloyd's building was erected between 1978 and 1986 and consists of a rectangular fourteen-story tower with a concrete frame, measuring 45 meters wide and 67 meters long (150 x 220 ft).
A large barrel-vaulted glass ceiling covers a spectacular, sixty-meter high atrium. Several service towers of different height, housing staircases, pipes and glass elevators flank this central office tower. The service areas are not enclosed, creating a first impression of an oil refinery set smack in the middle of London's financial district.