Dubbed Hong Kong's number one tourist attraction and situated high above the sights of Hong Kong, The Peak attracts approximately six million visitors each year.
Peak Tower
Quite simply the highest point on the island, The Peak is the place where everyone wants to go to enjoy a bird's-eye view of Hong Kong… and they certainly won't be disappointed.
The Peak Tower
Located at the top of The Peak is the wok-shaped Peak Tower, a unique building that's fun to look at and is probably one of the most photographed sites in Hong Kong.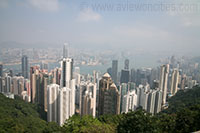 View from the Peak
The Tower, which has just recently been revitalized, is home to a rooftop observation area where visitors can grab a panoramic view of most of Hong Kong and beyond. In addition, the renovation project was planned to give the Tower a "festival market" atmosphere, complete with lots of shops and restaurants, all designed to reflect the elements of traditional Hong Kong.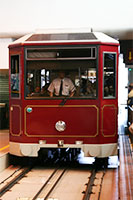 Peak Tram
A steady stream of special events, including concerts, dance performances, and theatrical productions, are scheduled to take place year-round, adding to the festive ambience of the Tower. And there's even a Madame Tussaud's Wax Museum located here in the tower.
The Peak Tram
The best and most enjoyable way to reach The Peak Tower is via the Peak Tram, one of Hong Kong's oldest forms of transportation. This funicular railway first went into operation in 1888 and has since become a vital transportation link as well as a popular tourist attraction.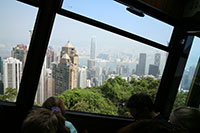 Going up towards the Peak
The ride from the center of town to the top of The Peak takes approximately 7 minutes. Visitors of all ages will be thrilled by the ride, especially the steep climb towards the Tower!
These electrically-powered tramcars can hold 120 passengers at a time, and the tram makes the trip from station to station approximately 90 times each day, with the first ride commencing at 7 am and the final trip ending around midnight. Trams leave either station every 10–15 minutes. There are four intermediate stations along the way.
Patrons can purchase single journey tickets or round trip fares. Monthly passes are available and discounted tickets are offered for children and senior citizens.
Other Peak Activities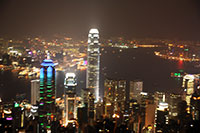 View from The Peak at night
The attractions and shops available at The Tower aren't the only thing located at the top of The Peak. Visitors can wander the area outside the tower, stopping for a visit to Mount Austin Playground and continuing on to Victoria Peak Garden, a great place for a leisurely stroll with a picturesque view of the harbor area.
An easy, yet scenic 360 degree walking and jogging route that circles the garden provides more fantastic views of Hong Kong and the outlying islands and offers a picnic area for a leisurely lunch.