Hong Kong's already impressive skyline comes to life each night thanks to the intricately choreographed Symphony of Lights.
Hong Kong's Skyline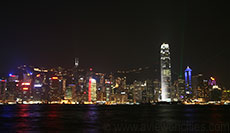 Hong Kong Island Skyline at night
The skyline of Hong Kong is really like no other. Though New York City boasts plenty of skyscrapers, because of the small size of Hong Kong, there are more skyscrapers packed into a tiny area.
And Hong Kong actually boasts two skylines: one on Hong Kong Island and the other on Kowloon across Victoria Harbour. While Hong Kong Island's skyline is still the most impressive one, Kowloon's skyline is catching up fast now that the height restrictions (which were imposed due to the now moved airport nearby) have been lifted.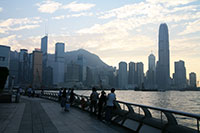 Skyline seen from
the convention center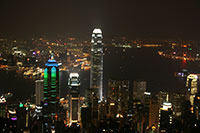 Hong Kong's skyline is impressive during the daylight hours but will really knock your socks off when all the skyscrapers are lit in the evening. Be sure to take some time to admire them and don't forget to bring your camera.
Symphony of Lights
Adding to the beauty of Hong Kong's skyline is a fantastic multimedia light show that began in January 2004. Dubbed "A Symphony of Lights", this orchestrated light and laser show currently features 44 buildings on both sides of Victoria Harbor, though it began on the Kowloon side only. It is rumored that this extravagant show costs about $44 million HKD each year to produce.
The show features several different kinds of lights including not only simple lighting from inside the buildings but also LEDs, lasers, searchlights, and projection lighting. On special occasions or to mark a particular event, A Symphony of Lights adds fireworks to its nightly presentation.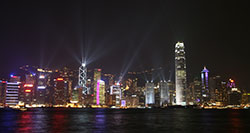 Symphony of Lights
Taking place each night during good weather, the show starts at 8 pm and ends about fifteen minutes later. You can hear live narration and music from two locations: on the Avenue of Stars on the Tsim Sha Tsui waterfront and at the promenade outside the Golden Bauhinia Square in Wan Chai. On Monday, Wednesday, and Friday, the show is done in English. On the remaining nights, it is narrated in Mandarin or Cantonese.
There are several good places from which to watch A Symphony of Lights, but the best by far is from aboard one of the Victoria Harbor ferries, though you won't always be able to hear the narration and music.