Located on the Tsim Sha Tsui promenade, the Avenue of Stars pays tribute to Hong Kong's rich cinematic tradition – both past and present. In this city, often touted as the "Hollywood of the Orient", the attraction has become a favorite of both locals and tourists.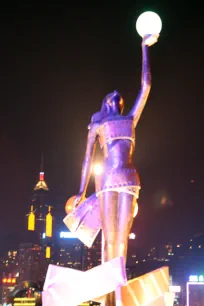 About the Avenue
According to the Hong Kong Tourism Board, the Avenue of Stars was designed to recognize the film industry's contribution in promoting Hong Kong as a destination worldwide.
This attraction goes a few steps further than Hollywood's popular Walk of Fame. Along Hong Kong's Avenue of Stars, visitors will find not only plaques emblazoned with the names of famous Hong Kong actors and actresses, but will also be treated to a video about the local movie industry, sculptures of particularly notable stars, souvenir kiosks, and interesting tidbits about Hong Kong's more than 100-year film history.
One of the most popular attractions on the Avenue of Stars is a two-meter-tall bronze statue of the world's most famous martial arts actor, Bruce Lee, a Hong Kong native. Dedicated in 2005, the statue marked the 65th anniversary of Lee's birth.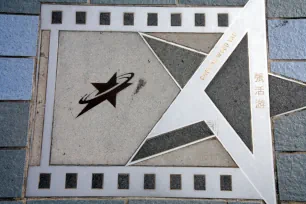 Some actors whose names are included on the Avenue of Stars are recognizable only to the Hong Kong community or aficionados of Hong Kong films. Others may be recognized by film fans the world over, such as Jet Li and Sammo Hung, considered the king of the Hong Kong action film.
Initially, one hundred actors – both living and dead – were honored along the Avenue of Stars. The local film board notes that they hope to add more stars to their walkway each October.
Visiting Avenue of Stars
Avenue of Stars is a free attraction that can be visited any time of the day or night. It's especially lovely in the evening, when it's illuminated with tons of twinkling lights.
The promenade at Tsim Sha Tsui also provides a stunning view of the harbor and is an especially good place from which to watch the nighttime Symphony of Lights, a must-see for visitors to Hong Kong.