In the middle of the Central section of Hong Kong, Hong Kong Park features 8 hectares (almost 20 acres) of park-like beauty, designed to be both a leisure and educational experience for the residents of Hong Kong and for visitors as well.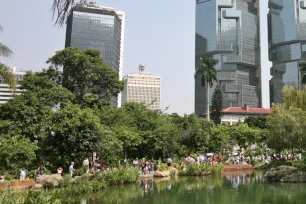 The park is a fine example of modern design and facilities blending with natural landscape. Water features like waterfalls, streams, and ponds are an important part of the park's natural beauty.
Background
The park occupies the upper area of the former garrison area known as Victoria Barracks. The idea for the park arose in 1979 and it was finally completed in 1991. Hong Kong Park cost $398 million to build and was a joint development project between the former Urban Council and the former Royal Hong Kong Jockey Club.
What to See
Hong Kong Park isn't just an open green air where you can enjoy roaming through the trees and flowers. There are several attractions in the park.
Start with the aviary. This is the largest in Hong Kong and is of the "walk-through" variety, with birds flying freely throughout the complex. An elevated walkway even allows you to explore the tree canopies. The stainless steel mesh building is, in itself, a sight to behold.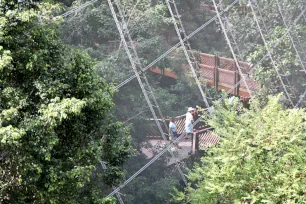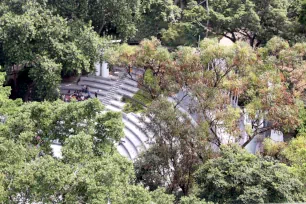 The 1,400 square meter conservatory is one of the largest in Southeast Asia. It's divided into three sections: the Display Plant House, the Dry Plant House, and the Humid Plant House. A range of climatic conditions are simulated so that visitors can experience everything from a tropical rain forest environment to an arid desert.
The air-conditioned Sports Centre can accommodate a number of different athletic events and the Squash Centre features 18 air-conditioned squash courts. This Hong Kong Park facility is the site of many national and international tournaments.
The 250-square-metre Children's Playground is a huge hit with the little ones. It features 6 levels of play with a soft floor for extra comfort and a closed circuit television system to ensure the safety of the children.
Olympic Square, reminiscent of an ancient Greek amphitheater, seats 880 people and is the site of many concerts, plays, promotional events, sports, and a variety of different kinds of entertainment spectacles.
Also check out the Flagstaff House of Tea Ware a division of the Hong Kong Museum of Art, as well as the Hong Kong Visual Arts Centre.
Other Amenities
No doubt you'll get hungry or thirsty while exploring Hong Kong Park. No problem. The park has three refreshment areas including one sit-down, inside restaurant. There are also two smaller eateries (in the squash centre and tea ware museum) and a few kiosks for a quick bite to eat.