A popular gathering place in the Central district, this picturesque square is surrounded by some of the most magnificent buildings in Hong Kong.
History of the Square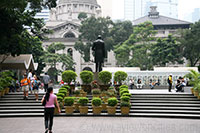 Statue Square
The pretty pedestrian area that has become known as Statue Square has been a fixture in Hong Kong since the end of the 19th century. At that time, Hong Kong chose to honor royalty from the then-mother country of England as well as a prominent citizen who had left his mark on the British colony.
When the square was first organized, statues of Prince Albert, Queen Victoria, and Edward VII (Prince of Wales and later King of Great Britain and Ireland) all stood in this area. Joining them was Sir Thomas Jackson, the chief manager of the Hong Kong and Shanghai Banking Corporation (HSBC) from 1876 to 1902.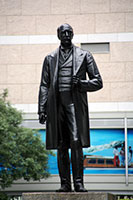 Sir Thomas Jackson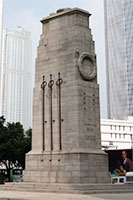 The Cenotaph
Originally, one could view Victoria Harbor from the northern side of the square. However, buildings now stand between Statue Square and the waterfront.
During and After the War
During World War II, the artwork in Statue Square, along with two bronze lions that stood at the nearby HSBC building, were commandeered by the Japanese and taken to Japan to be melted. Fortunately, that never occurred.
After the war, all of the statues were returned to Hong Kong. Currently, Jackson's sits in the middle of the square and the statue of Queen Victoria was placed in Victoria Park. The lions were returned to their original home as well.
The cenotaph, a memorial honoring those who died during the second World War was placed at the northern end of the square.
In the mid-1960s, Hong Kong officials beautified the square and added plantings and fountains to the area, making it a quiet and peaceful place to enjoy the midday meal or just take a respite from a long day of sightseeing.
A Gathering Place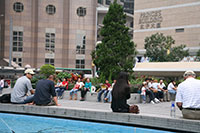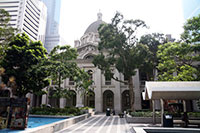 Legislative Council Building
If you head to Statue Square on Saturday, you'll find that it's much more crowded than during the weekdays. The area has become a gathering place for Filipino nannies who work for wealthy families in Hong Kong. The young ladies come to Statue Square on their day off to socialize with each other.
During Hong Kong's Annual WinterFest, the square becomes the enchanting Santa's Town. Visitors will be treated to a huge, dazzling Christmas tree and a number of other whimsical sights, including a replica of Santa's post office, Santa's lodge, and a Wishing Corner.
A visit to the square also provides guests with the opportunity to view some of Hong Kong's finest buildings, including the HSBC headquarters and the Legislative Council building.