A beautiful old structure in the midst of many contemporary buildings, the Court of Final Appeal Building adds an old-fashioned touch to the Central area.
History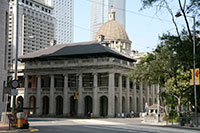 Legislative Council Building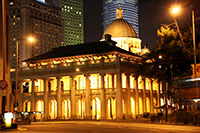 Legco Building at night
The handsome Neoclassical-style Court of Final Appeal Building is the current home of the Court of Final Appeal of Hong Kong, but from its opening until 1985, it was the meeting place for the Supreme Court of Hong Kong. Thereafter, it became the home of the Legislative Council, and was known as the Legco Building. When the Legislative Council moved to its own dedicated building in 2011, the Court of Final Appeal Building moved in what is currently one of the most beautiful buildings in Hong Kong.
The Building
Designed by British architect Sir Aston Webb, the Court of Final Appeal Building was completed in 1912. Aston's esteemed reputation deemed him the right person for designing this grand building. Earlier, he was responsible for the design of the eastern facade of Buckingham Palace as well as a portion of the Victoria and Albert Museum, both in London.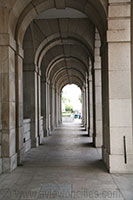 Arcade
The building is a two-story structure, fashioned from granite and boasting Ionic columns. Because of its initial role as the Supreme Court, the building is topped by a statue of "Justice", represented by the Greek goddess Themis. She stands above the main entrance.
The exterior of the Court of Final Appeal Building is one of Hong Kong's "declared monuments". It's especially impressive when lit up during the evening hours and when the trees around the building twinkle during Christmastime.