Thanks to its distinctive facade, Hong Kong's Lippo Centre is one of the city's most iconic landmarks. The complex comprises two similar looking towers designed by Paul Marvin Rudolph in association with Wong & Ouyang Ltd.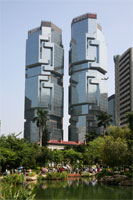 Lippo Centre
Rudolph is best known for his brutalist architecture, but here he designed a totally different complex in a postmodern design completely clad with reflective glass. The most distinctive part of the design are the cantilevered projections that house the so-called sky-rooms.
The two towers are similar to each other in design by they do have a different height: the tallest one, known as Lippo Centre 2, reaches a height of 186 meter (610ft) while the other tower, Lippo Centre 1, tops off at 172 meter (564 ft). The two towers are set on a four-story podium which is home to a large atrium and a retail area.
Elevated Walkways
Detail of the facade
The architect originally intended to connect the two towers by a series of elevated walkways, but one of the original owners of the project objected as this reminded him of his former factories in Indonesia, where buildings were connected by bridges. But, this being Hong Kong, it is no surprise that walkways now connect the base of the complex to surrounding buildings and a nearby MTR station. The Lippo Centre is otherwise difficult to access on foot due to its location on a narrow plot hemmed in by busy roads. The complex has nonetheless a prime location in the Central district, with excellent views of the nearby Hong Kong Park.
Koala Building
The articulate projections that seem to cling to the tower's sides led to the nickname Koala Building. Coincidentally the building was once owned by an Australian businessman, Alan Bond, who acquired the building in 1987, while it was still under construction. The building was originally commissioned in 1984 by a local company, the Admiralty Development Ltd. Construction of the building started in 1986 and it opened in 1988 as the Bond Centre. Alan Bond's business empire soon started to crumble and he sold the building that same year, after which it was renamed Lippo Centre.