Yet another spectacular skyscraper in Hong Kong's beautiful skyline, the HSBC (Hong Kong and Shanghai Banking Corporation) headquarters is consistently acclaimed for its design and construction.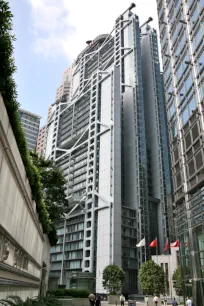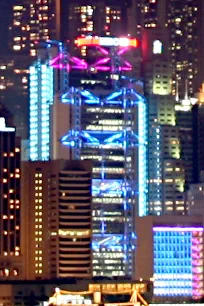 Facing Victoria Harbour with a view that's unrivaled, it remains one of Hong Kong's most attractive and admired modern structures.
Built in 1985, the HSBC Bank headquarters sits on the site of the bank's first offices, which were in use from 1865 to 1882. At the time of its construction from 1978 until it opened its doors eight years later, this beautiful structure was the most expensive skyscraper ever built, costing a whopping $668 million (HK$5.2 billion).
The Architect
The Building
The structure is 47 stories tall (180 meters) and known for its innovative construction, boasting the absence of an internal supporting structure. The building makes excellent use of natural light in order to save energy. Remarkably, sea water is used as coolant for the air-conditioning system and to flush toilets.
The HSBC Bank headquarters is one of the few tall buildings where the elevators don't stop on every floor. Instead, a series of escalators connect some of the floors with each other. The floors themselves are made of moveable panels to make it easy to install computer and telecommunications systems as space changes hands.
The building was largely pre-fabricated, with materials arriving on site from literally all around the world. This allowed the skyscraper to be built quickly.
Lighting the Building
While Foster's design was certainly magnificent, not much thought was initially given to the exterior lighting of the HSBC Bank Headquarters. However, in 2003, the building became part of the Hong Kong Tourism Board's Symphony of Lights.
According to records, 716 intelligent lighting units – including 450 colour changing fluorescent fixtures in the glass stairwells, 200 fixtures on five levels, 8 search lights, and over one kilometer of LED lighting around the top of the building were installed for this awesome light show.