Chicago's Union Station was built in 1925 as one of the last grand American railway stations. At the time, Chicago was a national railway hub, connecting the east and west coasts of the United States.
Conception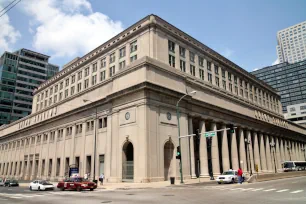 The station replaced the overcrowded Grand Passenger Station built in 1881 for a consortium of four railroads. This consortium, headed by the Pennsylvania Railroad, wanted to create a new, large railway station befitting the city's status as America's railway hub. They wanted the station to make an architectural impact, similar to New York's Grand Central Terminal and Washington's Union Station.
Design
Daniel Burnham, Chicago's famous architect who was responsible for the magnificent Beaux-Arts Union Station in Washington, started drawing plans for the new railway station, but he died before the design was completed. His work was taken over by Graham, Anderson and Probst, later joined by White. They designed a complex incorporating two different buildings on either side of Canal street, connected to each other by a tunnel. Construction of the building started in 1913 and was finished twelve years later, in 1925.
Great Hall and Concourse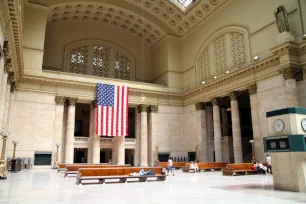 The west side building contains the large waiting room, known as the 'Great Hall'. The waiting room has a 112 ft. / 34 m. high vaulted skylight, marble floors with long benches and marble walls with large Corinthian columns. According to the original plans, the building would also have twenty floors of office space, but only eighth were completed.
On the east side of Canal street was the concourse building. The glass vaulted concourse was modeled on the concourse of the now demolished Pennsylvania Station in New York. The concourse in the Chicago Union Station was demolished in 1969 and replaced by office buildings.
Chicago's Main Station
Although the station could handle as many as 400,000 passengers per day, about 100,000 passengers made use of the station during its heyday in the 1940s. The station has two sets of tracks, ten leading northbound and ten southbound. It is estimated to be capable of handling more than 700 trains in a single day.
After the foundation of Amtrak – a government owned corporation responsible for passenger train services in the U.S. – in 1971, most of the train services were directed to Union Station. After Dearborn Station was closed that same year and Central Station in 1972, Union Station remained as the only passenger railway station in downtown Chicago.
In 1992 the Union Station was renovated by Lucien Lagrange Associates and in 2002 the building was (finally) designated a Chicago Landmark.