Standing as a symbol of nineteenth- and twentieth-century America's burgeoning railroad industry, Dearborn Street Station was the first of Chicago's grand downtown stations.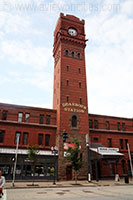 Dearborn Station
During the heyday of American railroading, downtown Chicago boasted six inner-city stations. The oldest, Dearborn Street Station, stood at the corner of Dearborn and Polk and was, for decades, the major departure point for trains to Southern California and portions of the Southwestern U.S. via the Santa Fe Railroad. Other trains left for New York City, Toronto, Alabama, and nearby St. Louis.
The Station
Opened in 1885, this majestic station was designed in the Romanesque Revival style by New York architect Cyrus L.W. Eidlitz. The massive building sported a twelve-story tall clock tower that became a welcome Chicago landmark for those arriving home from trips to the west and elsewhere. The exterior was made of pink granite and red pressed brick and was decidedly less ornate than some of Chicago's other stations. The exterior also sported a number of steeply pitched roofs, which were eliminated after a fire partially destroyed the structure in 1922.
Behind the tower were the train platforms, covered by a large shed. The rather plain interior included numerous ticket counters, passenger lounges, and a Fred Harvey restaurant, one of a chain of restaurants that were located in terminals throughout the country.
Closing the Station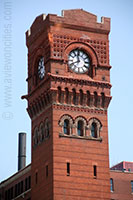 Clock Tower
In 1971, Amtrak – a government owned railroad corporation – decided to consolidate their downtown stations and chose to close the one on Dearborn Street. A few years later, the tracks were removed and the train shed demolished. Luckily, concerned citizens demanded that the headhouse (the entry building and clock tower) remain.
In the early 1980s, the headhouse was converted to office and retail space and the remainder of the land became Dearborn Park, considered one of the most successful urban renewal projects in U.S. history. Visitors to the area will find various types of housing including high-rises and single-family homes, green areas and playgrounds, and an elementary school.