One of the most innovative buildings in Chicago are the 860-880 Lake Shore Drive Apartments, two glass and steel towers at Chicago's Gold Coast.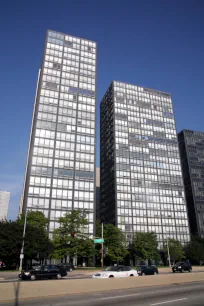 Radical Design
Today there doesn't seem to be anything radical about these towers, but when they were completed in 1951, they contrasted sharply with the contemporary brick and concrete buildings. Not only was the steel structure used as ornament, for the first time apartments were built with glass walls, covering the whole exterior.
Nonetheless, they became an immediate commercial and critical success. The towers were soon followed by many other glass and steel towers, such as the Lever House in New York and the Inland Steel Building in Chicago.
Glass and Steel
Mies van der Rohe had previously designed glass and steel buildings, among them plans for a department store in Berlin in 1928. In 1948, he made two versions of a project in Chicago, the 21-story 'Promentory Apartments', one of them with a concrete and brick exterior, the other one with a glass curtain. Eventually the concrete version was used, but the glass and steel version was eventually applied on the Lake Shore Drive Apartments, finally realizing Mies van der Rohes decades-old vision of modern high-rise buildings.
Chicago Landmark
The 860-880 Lake Shore Drive Apartments were deemed Chicago Landmarks in 1996, the first building by van der Rohe to receive that status. You get the best view of the buildings from Michigan Lake's shore. Mind that the apartments buildings are private and can thus not be visited.