In Chicago's North Loop sits one of the city's many architectural attractions: the James R. Thompson Center; a controversial, award-winning building that houses governmental offices.
Controversy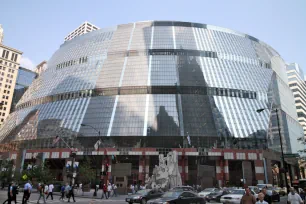 Completed in 1985, the James R. Thompson Center is a controversial work of contemporary architecture that has at the same time been lauded and heavily criticized.
As the winner of the 1986 Distinguished Building Award of the Chicago Chapter, American Institute of Architects, architect Helmut Jahn was touted as making a "strong, powerful, and important statement" that "broke new ground" in the city of Chicago. Others consider the building, which was given the nickname 'cash register', an impractical monstrosity.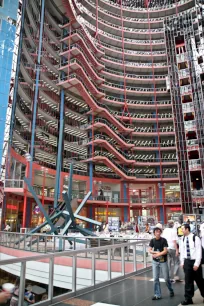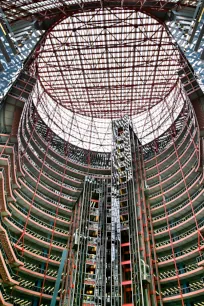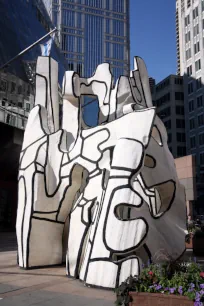 Design
In any case, the building is commanding. From its location on the North Loop, it has earned worldwide attention. Massive in size, the James R. Thompson Center reaches 332 feet (100 meters) into the air and occupies 1,193,163 square feet (110,000 sq m) of space. The building, originally known as the State of Illinois Center, cost $89 million to build.
The structure is a low-block design. The glass-enclosed steel structure, with a curving, sloping facade, boasts seventeen stories, with two additional floors underground. The exposed steel is red and the cladding bright turquoise, making for a colorful sight.
Atrium
The most spectacular aspect of the building is its soaring cylindrical atrium, which extends through the roof to a skylight. Glass elevator shafts project into the atrium as well, and the view of the gigantic Concourse Level from the 72-foot-diameter (22 meter) open cut out of the lobby can be breathtaking.
Inside
As the principal state government building in Chicago, the James R. Thompson Center houses most of the state government agencies but also includes a large commercial area that features lots of shops and restaurants.
Inside, you'll also find what's been dubbed as one of the world's largest collections of contemporary artwork by Chicago natives. More than six hundred works of art make their permanent home at the James R. Thompson Center, ranging from photographs to oil paintings to wood sculptures.
Monument with Standing Beast
The best known work of art at the James R. Thompson Center is an 8.8-meter-high (26 ft.) white sculpture with black stripes that stands in front of the building's main entrance. The sculpture, entitled 'Monument with Standing Beast' was created in 1984 by the French artist Jean Dubuffet.