Robie House is one of the most famous residences in the world. The house is the culmination of the Prairie Style, a local Chicago style that was mostly defined by its most renowned proponent, Frank Lloyd Wright.
Prairie School Style
Frank Lloyd Wright designed many houses in the suburbs of Chicago, especially around Oak Park, where his studio was located between 1889 and 1909. While developing his own personal architectural style, he was inspired by the simplicity and horizontality of the Midwestern prairie and wanted his buildings to reflect the natural beauty of the prairies, hence the name of the architectural style that he employed during his time at Oak Park.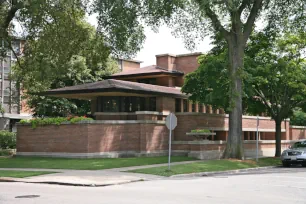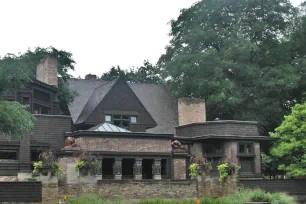 The first residence where the budding style becomes apparent is the house of William H. Winslow in River Forest, built in 1893-1894. Wright perfected the style over the years, resulting in the 1909 Robie House, one of the last of his Prairie Style houses.
Building History
The Robie House was commissioned in 1906 by the bicycle and motorcycle manufacturer Frederick C. Robie. The building was completed in 1910 and served as the main residence of the Robie family until 1912 when it was sold to Marshall D. Wilber. In 1926 the Chicago Theological Seminary bought the house from Wilber and converted it into a school. When they planned to demolish the building in 1957, real estate developer William Zeckendorf came to the rescue. He purchased Robie House in 1958 and handed it over to the University of Chicago in 1963.
In 1997 the Home and Studio Foundation – now the Frank Lloyd Wright Preservation Trust – assumed responsibility of the Robie House. A ten-year renovation project started by the Preservation Trust was completed just in time for the building's centennial anniversary.
Architecture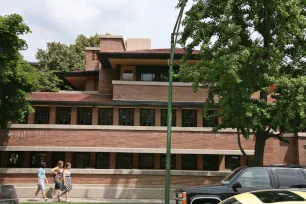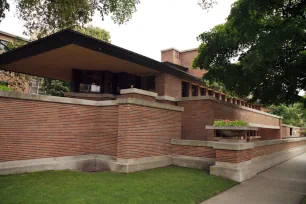 This masterpiece of the prairie style school is defined by its horizontal lines that are accentuated by the roofs and long Roman bricks. The red brick house with limestone trim has an asymmetrical composition consisting of three different parts that are fused seamlessly into a house that has a consistent look that is continued in the interior, which was also designed by Wright. The long overhangs which extend up to twenty feet (six meters) from its supports were made possible with the use of long steel girders, at the time unconventional for residential architecture.
The interior is spacious and open, with only a central fireplace separating the living and dining room. Frank Lloyd Wright's idea of architecture was that of the 'total environment', where architecture doesn't end at the enclosing structure; the interior was equally important. Hence, Wright designed not only the house, but also the furniture. The most famous piece is the dining table, which contains lamps and flower dishes at each corner. The idea was that candles and flowers that were placed on the tables obstructed the views. The accompanying tall, straight chairs with spindles extending from the top to the ground were also uniquely designed for the Robie House.
Visiting Robie House