When the Aqua tower was completed in 2009, its unique design with a rippling facade of irregular balconies was lauded by architecture critics for its fascinating visual impact.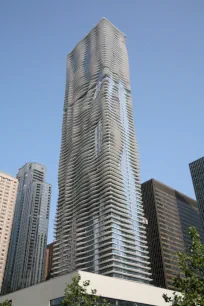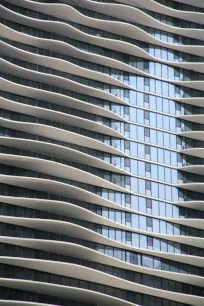 The Tower
Aqua, a mixed use residential skyscraper, was designed by Jeanne Gang of Studio Gang Architects. The 82-story tower rises to a height of about 267 meters (876 ft) in a cluster of skyscrapers at the Lakeshore East area, just north of Millennium Park.
The tower is one of the tallest high-rises built during Chicago's skyscraper boom of 2000 – 2009. Its financing was secured in August 2007, just before the credit crunch that followed the Financial crisis of 2007-2008 brought the construction of new high-rises to a virtual standstill. The tower has garnered critical acclaim and received Emporis's 2009 Skyscraper Award and the CTBUH's Best Tall Building Americas 2010 Award of Excellence.
Balconies
Aqua is in essence a conventional tower, but its balconies, which have a unique design for each of the apartments, give the building a remarkable silhouette.
The pattern of undulating balconies, from the tower's base all the way up to the top, make for an interesting facade. The effect is especially beautiful when seen up close, when it looks almost like waves in the ocean, which explains the tower's name. The inspiration for the facade, however, came from topography, where the facade can be seen as a vertical landscape made up of hills, valleys, and pools.
The balconies don't just create a nice visual effect, but serve other purposes as well. They break up the wind streams so that the tower needs less resistance against the strong Chicago wind. As a result, the skyscraper does not need a tuned mass damper to stabilize the building against vibrations and sways caused by wind forces. The balconies that protrude 2 to 12 feet (60 cm to 3.6 meter) outward also allow for wide views of the area, giving more residents views of Michigan Lake and the Chicago River. The balconies are shaped in such a way that they're casting large shades on the apartments below, reducing the energy costs. The areas without balconies have a special reflective glass cladding, again reducing the need for air conditioning.
The Base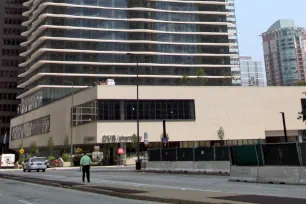 The tower is set on a rather bland two-story platform, which is well integrated at the street level. On top of the platform is a large green roof terrace with a running track, gardens and an outdoor pool. Planters along the street repeat the wavy design of the tower's balconies.
Jeanne Gang
Aqua was designed by Jeanne Gang, who, after working for OMA/Rem Koolhaas in Rotterdam and Booth/Hansen Associated in Chicago, founded her own studio in 1997, Studio Gang Architects. The Aqua tower, at the time of construction the tallest ever built by a female architect, was her first high-rise project and immediately put Gang in the limelight.