Located near the Lincoln Park Zoo, the Alfred Caldwell Lily Pool Gardens has long been a thriving sanctuary for both people and wildlife.
About the Lily Pool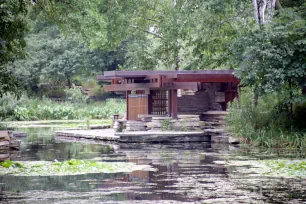 First landscaped in 1889 and designated as a place in which to cultivate tropical water lilies, the Lily Pool was re-designed in the 1930s by landscape architect Alfred Caldwell in the tradition of the Prairie School, influenced by such greats as Frank Lloyd Wright and Caldwell's teacher, Jens Jensen.
The new design for the pool area used plants indigenous to the Midwest and included stone outcroppings, a pavilion, a cascading waterfall, and several other new features, arranged around a lily pool to create the look of a creek running through a Midwest prairie. With his design, Caldwell hoped to build an appreciation for the beauty of the natural landscape. The Lily Pool is the best known and most complete surviving example of his work.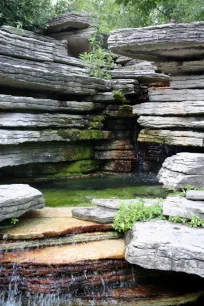 In 1942, Caldwell called the pool "a hidden garden for the people of Megalopolis," stressing its usefulness as a place where Chicagoans could go to rest and unwind after a long day in the big city.
Soon afterward, however, the pool began to become overgrown and neglected. For a while, Lincoln Park took over the maintenance of the Lily Pool and operated it as a bird sanctuary, called The Rookery. Too many birds, however, destroyed the plants, as did the people who trod carelessly through the area with little regard to nature. Though meager attempts were made in the 1960s to repair the damage, by the last decade of the twentieth century, the Alfred Caldwell Lily Pool Gardens were in hopeless condition.
Restoring the Lily Pool Gardens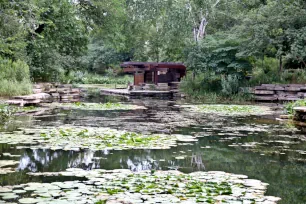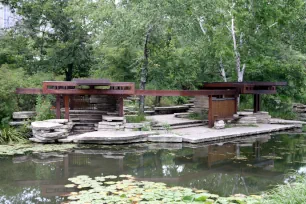 In 1997, a campaign to restore the area was undertaken by the Friends of Lincoln Park organization. The landscape architectural firm of Wolff Clements and Associates was hired to complete the job. With respect to the late Alfred Caldwell, the landscaper chose to restore the lily pool gardens to its original plan.
The rehabilitation began in 2001 with the replacement of non-native trees and shrubs with others that were bird-friendly and native to the Midwest.
Handicapped accessible pathways were installed and existing stone pathways were repaired. The gate, pavilion, and "council ring" (a circular bench) were restored as well.
The Alfred Caldwell Lily Pool Gardens was reopened in 2003 and has once again become a favorite place for bird-watchers as well as those seeking solitude at the "hidden pond" in the midst of the thriving city.