Merchandise Mart is an imposing building located on the north bank of the Chicago river between Wells and Orleans street. For ten years, Merchandise Mart held the title of the world's largest building.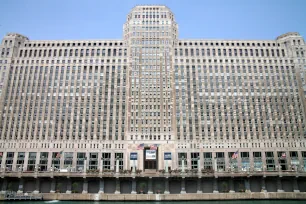 The massive building was constructed by Marshall Field and Company and designed by Graham, Anderson, Probst and White. It replaced the Marshall Field Wholesale store – a building designed by H.H. Ricardson – which had become too small for Field's ambitions.
Merchandise Mart housed the company's administrative headquarters and also contained showrooms. When it was completed in 1931, Merchandise Mart boasted the largest floor area in the world. Field's business started to decline at the end of the 1930s, and in 1945 the building was sold to Joseph P. Kennedy, father of the future president John F. Kennedy.
In 1941 the Pentagon in Washington, DC dethroned Merchandise Mart as the world's largest building, but even by today's standards Merchandise Mart is an immense office building with 13.6 km of corridors; it is still one of the largest commercial buildings in the world, twenty-five floors high and two city blocks long.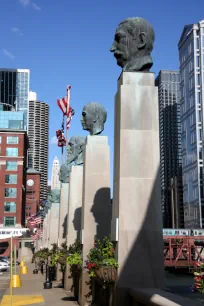 Merchants' Hall of Fame
Just outside the Merchandise, along the riverside, stand a series of eight pillars with large busts on top, resembling a series of Pez dispensers. This is the Merchant's Hall of fame and each of the bronze busts represent a famous retailer such as Frank Woolworth and Marshall Field.
The Hall of Fame was created in 1953 and was an initiative of Joseph P. Kennedy, at the time the owner of the Merchandise Mart. His goal was to "immortalize outstanding American merchants".
Renovation
The complex was renovated between 1986 and 1991 and now contains a shopping arcade on the first two floors. The rest of the building contains offices and showrooms where design professionals choose home and office furnishings.