Who says you can't enjoy a day at the beach… right in the middle of Chicago!
In fact, Oak Street Beach is just one of about 26 beaches in Chicago. The beach is one of the city's most popular thanks to its location near the densely populated Streeterville and Gold Coast neighborhoods and its magnificent views of Chicago's downtown and John Hancock Center in particular.
Urban Beach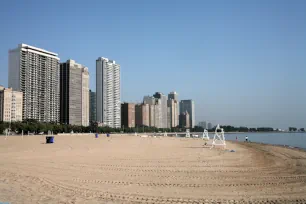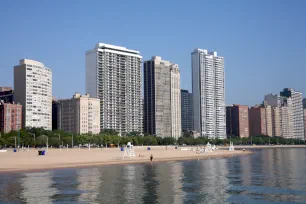 Chicago's Oak Street Beach is a true "urban" beach. Attracting the Windy City's residents any time the weather is pleasant, this man-made beach draws crowds of swimmers who come to enjoy the soft sand and refreshing waters of Lake Michigan. No one seems to mind that the sand needed to be shipped in from elsewhere; the beach was only created in 1890 as part of the Lincoln Park Commission's project to build a large breakwater system.
Sunbathers…
Located just north of the city's famed Magnificent Mile, Oak Street Beach is now maintained by the Chicago Park District. The stretch of sand at this beach is wide and accommodates lots of sunbathers. However, if you arrive on a particularly warm summer weekend, you may have a tough time finding a spot on the sand. That's okay. Plenty of sun worshipers pull out their chairs and simply grab a place on one of the concrete areas located on either side of the beach.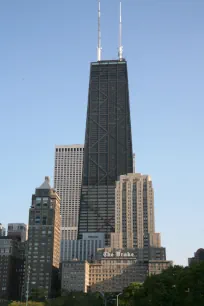 …and sportsmen
Young people gather on fashionable Oak Street Beach for high-energy games of beach volleyball, and the area is also popular with cyclists, roller bladers, and joggers. At night, it's a pleasant place to stroll and view the lights of the city.
Dogs are allowed on the beach and restrooms are available for guests, as are concessions. One of the most popular hang-outs in the area is the Oak Street Beachstro, where visitors can grab a cool drink or a quick burger, sandwich, or other goody.
To reach the beach, it is best to use the pedestrian tunnels at Oak or Division streets.